MAKING CAPPELLETTI - PASQUALE BRUNO, JR.
Emilia - Romagna
Preparation - Medium
Serves 4 - 6
Cappelletti are a hat-shaped version of tortellini coming from eastern Emilia-Romagna.
Like ravioli or tortellini, cappelletti can be stuffed and sauced with a variety of savory concoctions, such as chicken with cream sauce . The basic recipe follows.
Order of Preparation:

A. Make the filling and refrigerate.

B. Make the pasta dough and the cappelletti.

C. Make the sauce and cook the cappelletti.
1. Make the pasta sheets following the basic recipe. If you are using a pasta machine, stop at the next-to-last setting on the rollers. If rolling by hand, roll the dough as thin as possible.
Keep the dough from drying out by covering 1/2 with a slightly damp towel while rolling the other 1/2. Keeping the dough soft facilitates the sealing of the edges. Also, adding a tablespoon of olive oil or milk to the basic recipe helps soften the dough for easier sealing.
2. Cut the squares from the thinned out dough. Place the filling (slightly larger than a pea) in the center. Dip your finger into a glass of warm water and wet 2 sides of the square.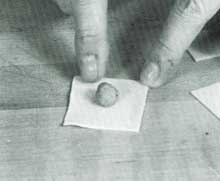 3. Fold the dough over onto the moistened edges (I turned the dough around to make it easier for you to see the method) until the two points almost meet.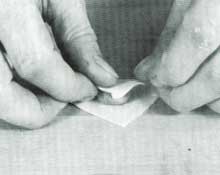 4. Press down along the edges to seal the dough.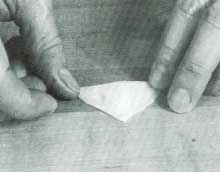 5. Put the cappelletti between your thumb and index finger and with your other hand press the two edges together firmly (my right hand). Pull back the peak slightly (the pointed ends just above my left thumb).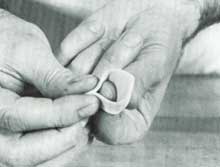 Set the cappelletti on a clean towel or a cookie sheet as you make them. They can be cooked at once or allowed to dry for 30 to 40 minutes (turn them once or twice so they dry evenly). If they are to be cooked later in the day, they should be refrigerated. The cappelletti can be frozen and bagged.
If the cappelletti are to be cooked at once, drop them a few at a time in plenty of boiling, salted water; they will cook in about 4 to 5 minutes. You can test by scooping one onto a plate and cutting off a small edge of dough with a fork. If they are done, it will cut easily.
Photos and text from:
Pasta Tecnica
Pasquale Bruno, Jr.
Contemporary