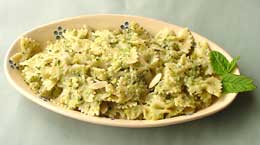 Farfalle con zucchini, menta e mandorle
Calabria
Preparation - Easy
Serves 4
Light, easy to make and surprisingly good.
5 medium-sized zucchini, cubed - about 4 cups
2 garlic cloves
4 T extra virgin olive oil
about 20 almonds (peeled)
1/2 cup fresh mint leaves
Salt and freshly ground pepper
1 lb (1 package) farfalle
Set the pasta water to boil.
Place zucchini in saucepan, cover with water, bring to a boil and cook till tender. Drain.
Place mint, almonds, garlic and olive oil in a food processor. Mince finely.
Add zucchini. Puree.
Add salt and pepper to taste.
Cook and drain the pasta, pour into serving bowl.
Add zucchini mixture and toss well.
Serve. You might be tempted to try grated pecorino or Parmigiano, but we found it tastier without cheese. Great with a sliced tomato salad.