Spaghetti con zucchine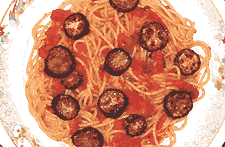 Serves six
Difficulty: easy
A sauce that is appetizing and tasty, making it even more attractive is that most of it the can be prepared ahead of time.
1 medium onion, finely chopped
1 medium carrot, finely chopped
1 stick celery with the leaves, finely chopped
2 sprigs of fresh oregano, leaves cut up (optional)
1 1/2 to 2 T olive oil
1-28 oz can plum tomatoes, pureed in food processor or blender
2 lbs small zucchini, washed and sliced about 1/4 inch thick
2 T olive or vegetable oil such as corn oil
salt and pepper to taste
1/2 cup freshly grated Parmesan cheese
6 quarts water
Prepare a soffritto with the first five ingredients.
Add the tomatoes; simmer over medium heat for 15 minutes, stirring occasionally. Season to taste with salt and freshly ground black pepper. Can be prepared ahead of time and reheated when ready to add to the pasta. Heat the oil in a non-stick pan or skillet over medium heat and brown the zucchini on both sides, one layer at a time. When light brown, remove and place on paper towels to absorb excess oil. May be prepared ahead of time and reheated by placing on a sheet of tinfoil on a cookie sheet in a 400ºF oven for a few minutes.
Cook the pasta and drain when done.
Transfer to a warm serving bowl and mix well with the hot tomato sauce.
Scatter the fried zucchini slices on the surface of the tossed pasta.
Serve with Parmesan cheese at table.
Hint: Slice the zucchini, sprinkle lightly with salt and place in a colander anywhere from 1/2 an hour to 2 hours. Remove from colander and place on paper towels, then fry. This will help absorb the water in the zucchini and thus use less oil when browning.