BREAD, TOMATO AND ONION SALAD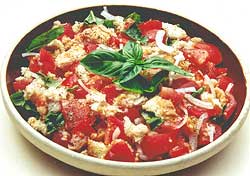 Panzanella
Tuscany
Serves 4
Preparation - Easy
Time: 30 min
Another surprisingly tasty Tuscan use of leftover bread. Essential to the tastiness of it is top quality extra virgin olive oil, good red wine vinegar, the bread and of course flavorful tomatoes. Usually associated with Tuscany, but is popular in Umbria as well. This is one of many versions. Panzanella can be prepared ahead of time and refrigerated for several hours or taken on picnics. Remove from refrigerator an hour or so before serving.
8 slices French or Italian country style bread 2 days old (or toasted), in slices 2 inches thick
3 TBSP extra virgin olive oil, or more to taste
2 TBSP good quality red wine vinegar or more to taste
4 cups tomatoes, as ripe and fresh as possible, cubed
2/3 cup Spanish or Bermuda onion, thinly sliced
1/2 cup lightly packed fresh basil leaves, washed, drained on paper towels and shredded, a few extra for garnish
salt and freshly ground black pepper to taste
Soak the onions in a small bowl with cold water and 1 teaspoon salt for an hour. The soaking helps reduce the sharpness and improve the digestibility of it.
Drain the onions on paper towels.
Soak the bread in cold water to cover for about ten minutes.
Remove, squeezing out as much moisture as you can.
Coarsely crumble the bread into a large serving bowl.
Add the tomatoes, onion and basil.
Toss.
Drizzle on the olive oil and the vinegar.
Season to taste with salt and pepper.
Toss well coating the bread with the oil and vinegar.
Garnish with a few whole basil leaves.
Serve.