SOFFRITTO, ONION, CELERY AND CARROT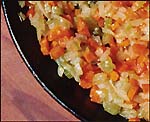 Soffritto, battuto, trittata
Soffritto comes from "sotto friggere", to barely or under fry. A combination of odori: celery, onion and carrot is lightly fried in olive oil. It provides the base for many Italian recipes, especially soups and pasta sauces. Optional addition of a clove of garlic, maybe a tablespoon or two of parsley, or a few leaves of fresh sage. Diced pancetta, or ham may be included in a soffritto if the recipe calls for it..
1 large onion
2 large carrots
2 ribs of celery with their leaves
2 T to 1/2 cup of olive oil, depending on recipe and your own taste (good olive oil is part of the flavor)
Ingredients are very finely chopped then gently sautéed in butter, oil or both over low heat until soft and just turning color (transparent), about 10 minutes. Stir occasionally.

Copyright © 2000,2012 e-rcps.com, All Rights Reserved Copyright © 2000,2012 e-rcps.com, All Rights Reserved