UTENSILS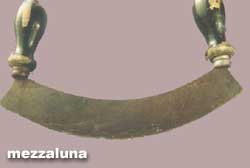 Mezzaluna
Mezzaluna, a half-moon. A knife with a curved blade with handles at each end of the blade found in the majority of Italian kitchens. Effortlessly chops herbs and vegetables by simply moving the blade from side to side as it remains in contact with the chopping surface.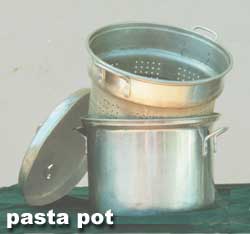 Pasta Pot
A straight-sided pot with an inner perforated draining basket, with handles. Sizes differ, so choose one that suits your needs. A 5 or 6-quart pot is a good size to have; you can decrease the amount of water in the pot if you are only cooking for two. A light-weight one if possible so as not to be too heavy once filled with water. Once water comes to a boil, simply place the pasta in the basket. When done to taste, pick up basket by the handles, shake to drain pasta, and add to sauce. I cannot imagine my kitchen without my pasta pot. It can also be used to prepare stock or to steam vegetables.

Wooden Fork
A long-handled wooden fork to stir and separate pasta as it cooks and test for doneness. A must.

Ladle
For soups and to spoon sauce over cooked pasta.

Grater
A four-sided one will do for cheese, vegetables and nutmeg. If you can, get one with a detachable bottom to hold grated cheese. A marvelous rotary cheese grater is made by Zylis of Switzerland with different size apertures and a small container to catch cheese as you grate, no wasted cheese. Mine seems to be in constant use.

Skillet, frying pan and sauce pan
Some sauces require small pans others larger ones especially in the case of the pasta being added to the sauce for a final toss or mix. Heavy bottomed and with low sides is a good idea. Were I limited to one, it would be medium sized, heavy bottomed with a long handle and a lid.

Knives
Sharp well-balanced knives of different sizes. An 8 or 6-inch chef knife for chopping and slicing, 5 and 4-inch paring knives. A good-quality, sharp knife makes all the difference in chopping, slicing, dicing etc. Indispensable.

Food Processor
A wonderful addition to the any kitchen. Great for chopping, dicing pancetta, preparing pesto, pureeing sauces and tomatoes.

Wooden Chopping Board
Good quality, heavy kind that will not splinter. Two sizes are ideal. One for vegetables and meat and one for rolling out dough.

Wooden Spoons
Lots of them in varying sizes with handles of varying lengths for mixing, stirring and tasting sauces.

Soup Ladle

Slotted Spoon
A large slotted spoon or scoop perfect for lifting bits from hot fat or sauces

Pepper Mill
Store-bought ground pepper just does not have the aroma and flavor or freshly ground pepper. Indispensable.

Wire Whisk


Rolling Pin
For rolling out dough for pasta. The traditional pin used in Italy is long, about 32 inches and tapes towards the ends, however, a regular rolling pin is fine but get the thinnest you can find.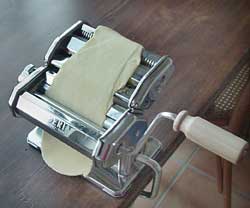 Pasta Machine
A hand cranked pasta machine has stood the test of time in many an Italian kitchen. Of stainless steel with rollers to press out the dough as thinly as possible. Usually has attachments for different shapes and sizes. It is clamped down to the edge of a table or work surface. Also available with an electric motor instead of the hand crank.
MAKING PASTA AT HOME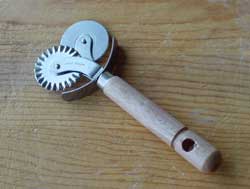 Ravioli cutter
Handy little item for cutting ravioli or pizza.
Lasagna Pan
Should be made of reasonably heavy metal with straight sides.
Colander
A large one with feet to stand in a sink and handles to lift and shake off moisture.