Recipes
Quick & Easy
Pasta
Appetizers
Soups
Main Courses
Salads
Pasta Salads
Risottos
Recipes by Region
Mideast Recipes

Basics
Ingredients
Utensils
Cheeses
Wine

Glossary

FAQ

Cookbooks

Tell a friend




Cooking Classes
Cooking classes in the U.S. and Italy.

---

Gastronomy Tours
Tour Wine & Olive oil country and other regions.
---

Links
Links to other sites of related interest.
---

Sources
Where to buy special ingredients and utensils.
---

Ask the Chef
If you don't find your recipe.
---
USEFUL TECHNIQUES FOR MAKING PASTA AND COOKING PASTA SAUCES
Flattening garlic
The easiest way to 'flatten' garlic (which makes it very easy to peel) is with the flat of the blade of a large chef's knife.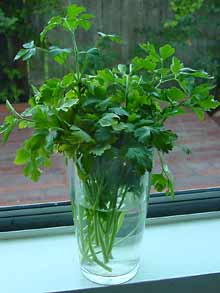 Storing parsley
Parsley is best stored in a glass of water in a cool, light place out of the sun.

Copyright © 2000,2012 e-rcps.com, All Rights Reserved