Recipes
Quick & Easy
Pasta
Appetizers
Soups
Main Courses
Salads
Pasta Salads
Risottos
Recipes by Region
Mideast Recipes

Basics
Ingredients
Utensils
Cheeses
Wine

Glossary

FAQ

Cookbooks

Tell a friend




Cooking Classes
Cooking classes in the U.S. and Italy.

---

Gastronomy Tours
Tour Wine & Olive oil country and other regions.
---

Links
Links to other sites of related interest.
---

Sources
Where to buy special ingredients and utensils.
---

Ask the Chef
If you don't find your recipe.
---
---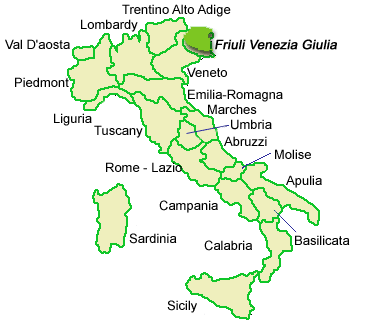 RECIPES FROM FRIULI
Friuli

This region prolongs Venetia to the east and it forms the Italian boundary with Austria and Slovenia. The area enjoys a large degree of autonomy in administrative and cultural affairs. In the north is the schistose massif of the Cernic Alps with its forests of conifers and alpine pastures. Friuli-Venezia Giulia is an important silk worm breeding and spinning area. Udine is one of the busiest towns. By way of the Trieste Riviera you will reach this town which was once the busiest port of Austria and now trades with the Far East. Trieste is still subject to a special statute.

From the 'Michelin Guide to Italy'

No recipes yet.



Copyright © 2000,2012 e-rcps.com, All Rights Reserved