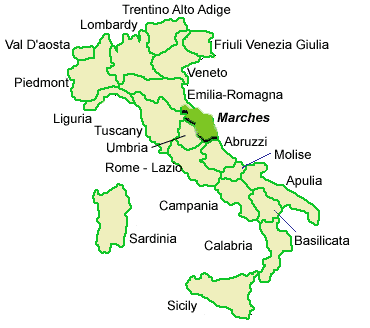 RECIPES FROM THE MARCHE REGION
Les Marche

Pasta triumphs in the Marche, with preference given to homemade versions. Housewives prepare mountains of wide tagliatelle, and maccheroni destined to be filled with exquisite flavours. The women from Le Marche are traditional good cooks. Even today in the country the would-be daughter-in-law must pass muster with her future mother-in-law: she must know how to lay out a perfectly round layer of pasta that is of uniform thinness, and to cut it in a variety of shapes. Her masterpiece is called "vincisgrassi" ('beat fat' - but actually the name of an Austrian General), a pasta made with eggs, stretched to lightness and cut in rectangles which, boiled, are layered in a casserole with a sauce made from chicken livers and mushrooms dusted with grated cheese, covered with bechamel sauce and baked in the oven.

Pesaro,on the Adriatic sea,is famous for its "brodetto" or fish soup. Also prepared along the coast, the "brodetto marchigiano" made with fish dipped in flour, fried in a mixture of oil, onion and parsley, and flavoured with saffron. Ingredients are different in other areas. Another specialty is the "pecorino di San Leo", a cheese made from sheeps milk, "ricotta" (a kind of cottage cheese) from Urbino, "bazzott" (a local fresh cheese) from Fano, and the "olive ascolane", big white olives filled with a mixture of cheese, egg, nutmeg, white meat chopped and mixed with prosciutto, mortadella and salame, lemon peel and parsley, then dipped in beaten egg and bread crumbs and fried in oil.

After the fulsome description, we are still testing the recipes!! Thank you for your patience.


Copyright © 2000,2012 e-rcps.com, All Rights Reserved