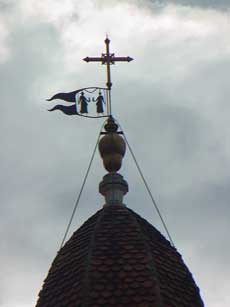 EASTER IN SICILY - Anna Tasca Lanza
Pasqua and Pasquetta
Easter is, of course, a very important holiday, the holiest of holy days, defining Christianity in Sicily as elsewhere. But the days of Holy Week, between Palm Sunday and Easter Sunday, are a solemn time. On Good Friday, twelve men of the parish stand in for the Apostles at the Last Supper. Each one gets a big sugar lamb, like the pupi de cena (sugar statues) that mark I Morti (All Souls' Day), a round loaf of Pani di Cena - Easter Sweet Rolls, glazed and decorated with colored sugar sprinkles; and the same trousseau of a head of romaine lettuce,a fennel bulb, a citron, and an orange that is presented to the verginedde on the feast of San Giuseppe. At the end of the ceremony, the pastor washes the feet of the "Apostles", just as the Pope does in Rome.
Pane di cena is normally formed into rolls, not loaves. The bakery sells them, but many women still make the rolls at home on Good Friday, using baking powder or baker's ammonia (ammonium carbonate) as a leavener rather than yeast. By one of those curious coincidences, Carol Field discovered these sweet rolls at the bakery in Vallelunga and has a recipe for them in her book 'Celebrating Italy'. I asked her if I could include it in my hook because it has the kind of precise directions for bread making that American readers like, and she very kindly said, "Of course".
There is another kind of Easter bread, called Pupo con l'uovo . For this bread, the dough is wrapped around one, two, or even three eggs in the shell, and the whole loaf is baked, eggs and all. There is also Easter Pie
The joyous celebration of Easter comes on Easter Monday, called Pasquetta in Italian, when all of Sicily heads out-of-doors to feast on the traditional dishes of spring. There's lamb, lamb, lamb, and great coils of sausage with bay leaf and onion tucked in between.
Fires for grilling are going full steam. And when the fires die down, stuffed artichokes are roasted in the embers. We call these carciofi alla brace, and they are always served on this day. You cut off the tips of the leaves and spread them apart, either with your thumbs or by holding the artichoke by the stem and pressing it down on a flat surface. Then you push a mixture of minced garlic, dried oregano, salt, and pepper down between the leaves. Just before roasting, you drizzle the artichoke - actually drench it - with olive oil. Then you place the artichokes in the coals and cook, turning them from time to time, for about 45 minutes, until the outer leaves are charred. These are discarded to get at the tender inner leaves and the heart. Well worth the effort!
Many pasta dishes are prepared and carried to the picnic: Pasta con le Prime Fave - Spaghetti with Early Fava Beans, which can also be made with peas; Pasta con i Mazzareddi e Ricotta - Perciatelli with Wild Greens and Ricotta; but mostly lasagne al forno. One reason for having the lasagne is that it can be easily transported.
There are probably as many recipes for lasagne as there are Sicilians but basically it is lasagna noodles-they used to be homemade, always, but now the lazy ones buy them in town-layered with a ragu' sauce with meat-like the one in Sformato di Patate al Ragu' - Potato timbale with Meat Sauce and Peas, and bechamel sauce. Some people put peas in their lasagne; some people put lots of cheese. It's all a matter of personal preference.
Dessert on this occasion is cannoli, both regular size and little ones, two bites. Molds for these tiny cannoli are sold in Italy but not elsewhere to my knowledge. Those are the official desserts, but anyone who has a different specialty is welcome to bring it to the picnic. When I asked Graziella Chimera, who came to work for me a few years ago, what she has on Pasquetta, she said dreamily, hungrily, "You eat all day long. You start in the morning and keep going until night." That's Pasquetta in Sicily.
From:
THE FLAVORS OF SICILY
Anna Tasca Lanza
Potter


Copyright © 2000,2012 e-rcps.com, All Rights Reserved