<<

PREVIOUS

- BROWSE RECIPES -

NEXT

>>
PASTA SALAD WITH SALAMI AND BROCCOLI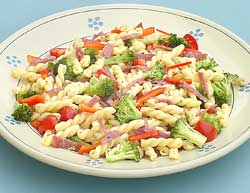 Preparation - Easy
Serves 4 - 6
12 oz (3/4 package) farfalle, penne or conchiglie (shells)
3/4 lb fresh broccoli, in small florets
12 cherry tomatoes, quartered
1 large red bell pepper, seeded, in strips
1/3 lb Italian style salami, in 1/2 inch strips
5 T extra virgin olive oil or more to taste
1/4 t red chili flakes (optional)
3 T red wine vinegar
salt and freshly ground black pepper
Cook the pasta till al dente. Drain well.
Place pasta while still warm in large bowl and toss with olive oil, vinegar and chili flakes.
Steam or microwave the broccoli to desired doneness.
Add broccoli, bell pepper, tomatoes, salami, salt and pepper to pasta.
Toss well, taste for seasoning, and serve.
Can be prepared ahead of time and refrigerated.
Lo Chef
<<

PREVIOUS

- BROWSE RECIPES -

NEXT

>>


Copyright © 2000,2012 e-rcps.com, All Rights Reserved
Copyright © 2000,2012 e-rcps.com, All Rights Reserved