<<

PREVIOUS

- BROWSE RECIPES -

NEXT

>>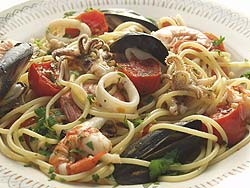 PASTA ALLO SCOGLIO - SEAFOOD PASTA RECIPE
Pasta allo scoglio - Lazio
Prep: 15 min; Cook: 30 - 40 min
Easy but with several steps
Serves 4
You can use any fresh or frozen seafood combination in this tasty dish - more and better ingredients improve it. We like it with a few cherry tomatoes (pictured), but you can go here for the recipe using frozen seafood and canned tomatoes, if you wish. Dish can be made with just mussels or clams or shrimp (any single ingredient) or a combination of what you can find.

We used shrimp, mussels, squid and fresh cherry tomatoes for this recipe.
4 tablespoons extra virgin olive oil
2 garlic cloves, minced
3/4 teaspoon dried crushed red pepper or 1/2 dried pepperoncino
1/2 cup dry white wine
12 - 20 cherry tomatoes, cut in half (pictured dish)
4 tablespoons chopped fresh parsley
salt and pepper to taste
1 package spaghetti, linguine or similar pasta

SEAFOOD INGREDIENTS (any combination)

1/2 pound cleaned squid, bodies cut into 1/4 to 1/2 inch wide rings, tentacles left whole
1 pound small littleneck clams, scrubbed
1 pound mussels, scrubbed, debearded
1 10 ounce uncooked lobster tail, shelled, meat cut into 1 inch pieces
8 ounces shrimp, cooked, peeled, deveined
4 ounces bay scallops
Skillet or wok large enough to accommodate entire dish; pot to boil shrimp; covered pot/pan to cook mussels/clams; pasta pot.
WE cook the seafood ingredients separately and add them together to the sauce at the end to keep the flavors distinct.

CUT the tomatoes in half and set aside.

COOK the shrimp/lobster tail (boil or sautée) and clean; set aside.

IN a separate pan with a cover, cook the cleaned mussels/clams (put them in the pan with a little water, covered) and cook quickly on high heat until they open. Do not overcook as they will get tough. Discard those that don't open. Set the mussels/clams aside, strain the remaining liquid through a coffee filter or paper towel (there may be some residual sand) and set aside.

IN a pan large enough to accommodate the entire dish, heat 2 tablespoons oil in large skillet over medium heat. Add garlic and red pepper and cook, stirring, until garlic is slightly transparent, 1 - 2 minutes.

ADD squid; saute just until opaque, 1 - 2 minutes.

ADD wine and 2 TBSP parsley and simmer until liquid is reduced by half, about 20 minutes.

IN a separate pan, heat 1 TBSP olive; add the cherry tomatoes and sautée gently until slightly soft, about 10 minutes. Sprinkle lightly with salt.

COOK the pasta.

WHEN pasta is almost ready, add all seafood ingredients to pan with squid, parsley and wine. Stir well to warm.

WHEN the pasta is ready, drain well. ADD to sauce and stir well. Add the cooked cherry tomatoes and stir again. Garnish with parsley and add another 1 - 2 TBSP olive oil if you wish.

SERVE in pan or in hot serving dish.


<<

PREVIOUS

- BROWSE RECIPES -

NEXT

>>


Copyright © 2000,2012 e-rcps.com, All Rights Reserved