<<

PREVIOUS

- BROWSE RECIPES -

NEXT

>>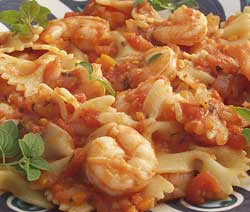 SHRIMP FRA DIAVOLO
Prep: 10m; Cook: 40m
Difficulty: Easy
Serves 4
FRA DIAVOLO refers to peppery dishes (mostly in the USA, in my experience). It means literally, "Brother Devil" and refers to a Sicilian Robin Hood, Michele Pezza (1771-1806), who disguised himself as a Franciscan friar and so was called 'Fra Diavolo'.*
You need cooking time to reduce (concentrate) the sauce for stronger flavor.
3 TBSP olive oil
1 medium onion, finely chopped (about 2/3 cup)
1 medium carrot, finely chopped (2/3 cup)
1 stalk celery, finely chopped (2/3 cup)
1 clove garlic, minced or through a garlic press
3 TBSP chopped parsley for garnish when serving (optional)
1/2 cup dry red or white wine (make sure it tastes OK)
1 can (28 ounce) stewed plum tomatoes
3 TBSP tomato paste or 1 small can (8 ounces) tomato sauce
1/2 teaspoon dried thyme or oregano
1/2 teaspoon crushed, hot red pepper, or to taste
salt and freshly ground pepper to taste (I usually start with 1/2 tsp salt and add if necessary)
1 pound medium cleaned, cooked shrimp
1 pound pasta - farfalle (butterflies - pictured), penne work well but good with spaghetti, too
Deep frying pan; pasta pot; pot or pan if cooking shrimp
IN deep frying pan on medium heat, gently sauté the chopped onions, celery, carrots, garlic and hot pepper in the olive oil until soft and transparent but not browned, about ten minutes.
ADD the wine. Cook, stirring occasionally, until reduced, about 5 minutes.
ADD tomatoes and tomato paste; cook, uncovered, on medium heat until reduced, about 30 minutes.
IF shrimp are not cooked, boil or sauté until cooked (pat dry with paper towel before sautéeing).
ADD the cooked shrimp to the sauce, stir well.
POUR sauce over drained, hot pasta, mix well and serve.
* Food Reference Website
<<

PREVIOUS

- BROWSE RECIPES -

NEXT

>>


Copyright © 2000,2012 e-rcps.com, All Rights Reserved