<<

PREVIOUS

- BROWSE RECIPES -

NEXT

>>
RECIPE FOR SHRIMP WITH PARSLEY PASTA SAUCE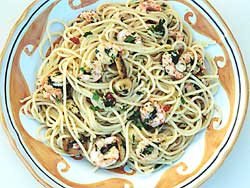 Spaghetti con i gamberi in bianco
Preparation - Easy
Serves 6
I have prepared this with fresh and with frozen shrimp. Naturally fresh shrimp is tastier and tenderer. However, the frozen shrimp was nearly as tasty. Convenient to whip up at a moment's notice if you have shrimp in the freezer.
1 to 1/2 lb medium/large shrimp, fresh or frozen
4 plump garlic cloves
1/3-cup extra virgin olive oil
1/2 peperoncino, or 1/4 crushed red pepper flakes, more to taste
3/4 cup fresh parsley, chopped
1 lb spaghetti or spaghettini
Start sauce when you place the pasta in the boiling water to cook.
Heat olive oil in a large skillet over medium heat.
Add garlic and brown lightly.
Add 1/2-cup parsley and peperoncino to garlic oil mixture and sauté for about 2 minutes, stirring with a wooden spoon.
Add shrimp and sauté just till cooked, about 3 minutes.
Drain pasta, reserving 1/4 cup cooking water.
Place pasta in warm bowl and pour the shrimp sauce over it.
Mix well, adding a tablespoon or 2 of the pasta water if needed.
Sprinkle with the rest of the chopped parsley.
Serve.
<<

PREVIOUS

- BROWSE RECIPES -

NEXT

>>


Copyright © 2000,2012 e-rcps.com, All Rights Reserved