<<

PREVIOUS

- BROWSE RECIPES -

NEXT

>>
FETTUCCINE WITH BLACK TRUFFLE SAUCE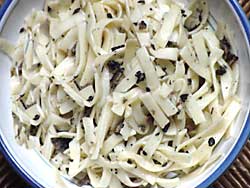 Fettuccine con tartuffo nero
Umbria
Preparation - Medium
Serves
One of our neighbors in Umbria, Verardo, was a great truffle expert. He kept pigs, but swore by the skinny beagle-style dog that hung on his heels for finding them. During the season, his wife Theresa might hand us a truffle or two, like jewels, when we went to get eggs. She would also preserve them under olive oil for year round use.
If you don't have any truffles handy, you can sometimes find commercially prepared truffle sauce in specialty stores.
12 oz fresh fettuccine or tagliatelle
1/2 cup extra virgin olive oil
1 anchovy fillet, mashed
1 clove garlic, crushed
2 medium Umbrian black truffles, (or any black truffle you can get), cleaned of soil, grated
6 quarts water
While pasta cooks, heat the olive oil in a small saucepan over very low heat.
Sauté the crushed garlic for 2 minutes. Do not let it brown.
Remove garlic.
Add the anchovy, cooking gently, crushing it to a paste with a wooden spoon.
Add the truffles and heat through.
Drain the pasta, reserving 1/4 cup of the liquid and immediately mix in the truffle sauce.
If you prefer the sauce moister, or it seems too dry, add one tablespoon of the reserved liquid at a time till desired moistness is reached.
Serve on pre-heated plates.
<<

PREVIOUS

- BROWSE RECIPES -

NEXT

>>


Copyright © 2000,2012 e-rcps.com, All Rights Reserved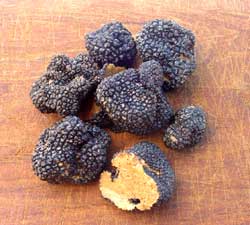 BLACK TRUFFLES.