<<

PREVIOUS

- BROWSE RECIPES -

NEXT

>>
CAULIFLOWER, OLIVE AND CAPER SALAD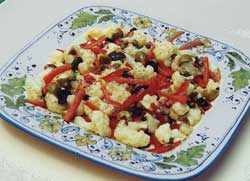 Insalata di rinforzo
Naples - Campania
Preparation - Easy
Serves 4
A traditional Neapolitan Christmas Eve dinner always begins with a family version of the following salad, which is actually an antipasto.
Fabia De Martino, whose husband is from Naples, makes it with tuna, pitted black olives, mushrooms, artichokes packed in oil, capers, peppers, and cornichons, and dresses the vegetables with lemon juice and olive oil.
1/2 tsp coarse salt, more to taste
4 1/2 cups (1 lb) cauliflower, washed and drained
15 black olives or olives from Gaeta, pitted and coarsely chopped
2 TBSP capers, rinsed and dried
10 green olives, pitted
1/4 cup red peppers packed in vinegar, rinsed, dried, and sliced into julienne strips
4 anchovy fillets, drained and cut into pieces
freshly ground black pepper
1 TBSP lemon juice
1/4 cup extra virgin olive oil
Fill a large saucepan with water; add 1 tablespoon salt and bring to a boil.
Lower the cauliflower gently into the water.
Simmer, covered, for about 15 minutes.
Test; the cauliflower should be al dente, not overcooked.
Drain, cool, and break into flowerets.
Put the cauliflower in a large bowl and add the black olives, capers, green olives, red peppers, anchovies, and pepper to taste.
Mix together the lemon juice and olive oil and pour over the salad.
Toss gently, being careful not to break the flowerets.
Taste for salt and add more, if necessary.
NOTE: This may be prepared in advance and refrigerated. Remove from the refrigerator 30 minutes before serving.
Source:
Italian Cooking in the Grand Tradition
Jo Bettoja and Anna Maria Cornetto
The Dial Press
<<

PREVIOUS

- BROWSE RECIPES -

NEXT

>>


Copyright © 2000,2012 e-rcps.com, All Rights Reserved