CHICKPEA, TOMATO AND PASTA SOUP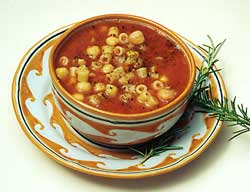 Pasta e ceci
Preparation - Easy
Serves 4
Tasty and satisfying meal. Serve with a tossed green or a tomato salad and crusty Italian or French bread.
1 15-oz can plum tomatoes crushed or pureed in a food processor
1 3-inch sprig fresh rosemary or 1/2 t dried rosemary, oregano or thyme
4 cups beef or chicken broth
2 15 1/2 oz cans chickpeas, drained
5 oz dry pasta (about a cup) - elbow macaroni, or if large pasta break into smaller bits
2 cloves garlic, finely minced
1/3 cup grated pecorino or Parmesan cheese (this dish has a delicate flavor, taste it without cheese first)
3 T extra virgin olive oil
salt and freshly-ground black pepper
large pot or saucepan.
SAUTÉ garlic in olive oil till golden.

ADD tomatoes and rosemary. Substitute fresh or dry oregano or thyme for the rosemary if you prefer.

SIMMER uncovered for 5 minutes.

ADD the broth; return to a simmer.

ADD pasta.

WHILE pasta is cooking, puree 1 cup chickpeas in a food processor or mill. Stir the pureed chickpeas into the broth along with the pasta, some salt and freshly ground pepper.

SIMMER, uncovered till the pasta is cooked to your taste (6-12 minutes).

ADD remaining whole chickpeas and heat thoroughly.

SERVE in soup plates. Pass Parmesan if you wish.

NOTE: The pasta absorbs the broth - the longer it sits, the less liquid the soup will be.
Source:
Flavors of Puglia
Nancy Harmon Jenkins
Broadway Books


Copyright © 2000,2012 e-rcps.com, All Rights Reserved