Recipes
Quick & Easy
Pasta
Appetizers
Soups
Main Courses
Salads
Pasta Salads
Risottos
Recipes by Region
Mideast Recipes

Basics
Ingredients
Utensils
Cheeses
Wine

Glossary

FAQ

Cookbooks

Tell a friend




Cooking Classes
Cooking classes in the U.S. and Italy.

---

Gastronomy Tours
Tour Wine & Olive oil country and other regions.
---

Links
Links to other sites of related interest.
---

Sources
Where to buy special ingredients and utensils.
---

Ask the Chef
If you don't find your recipe.
---
<<

PREVIOUS

- BROWSE INGREDIENTS -

NEXT

>>
CAPERS AS USED IN ITALIAN COOKING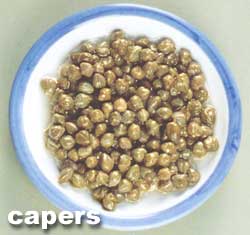 Capperi

Italian capers from the island of Pantelleria are the best. They are the buds of a flower that are picked, dried and then preserved in rock salt or in vinegar. Used in sauces and with fish. Always rinse before use to rid them of salt.
<<

PREVIOUS

- BROWSE INGREDIENTS -

NEXT

>>

Copyright © 2000,2012 e-rcps.com, All Rights Reserved