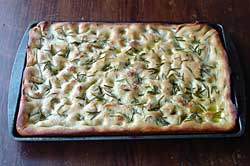 TRADITIONAL FOCACCIA LIGURIA STYLE
Focaccia
Liguria
Preparation - Medium
One 11 1/2 X 15 1/2 focaccia
Delicious plain with olive oil and salt (like the thick, morning 'pizza bianca' in our local bakery in Umbria), or with a scattering of rosemary on top.
INGREDIENTS:
4 cups flour
1/2 T salt
1 package active dry yeast
1 t sugar
3 T extra-virgin olive oil
1 T coarse kosher salt
Mixing bowl, baking pan (11 1/2 inches by 15 1/2 inches


METHOD:
Sift 1 cup of flour into a large mixing bowl. Dissolve yeast and sugar in 3/4 cup of tepid water. Form a well in the flour, add the yeast mixture, and mix well, then kneed for 5 or so minutes until elastic. Set aside in warm place to rise, about 3 hours, until double in bulk.
Add one cup of warm water, mix, add 3 cups sifted flour and the salt, mix, then knead until combined and elastic. Dust with flour if mixture is too sticky, or add water (sparingly) if too dry. Cover with plastic sheet or dish towel and set aside to rise for another 2 - 3 hours, until double in bulk.
Spread olive on the bottom of your baking pan (11 1/2 inches by 15 1/2 inches). Place dough in pan and stretch dough into sheet, pressing down firmly with your fingers to make indentations every 1/2 inch or so. Mix 1 tablespoon coarse kosher (coarse) salt with about 3 tablespoons water and 3 tablespoons extra-virgin olive oil. When salt has partially dissolved, dribble mixture over dough and gently work into indentations with your fingers.
Preheat oven to 450 degrees.
Allow dough to sit for about 1/2 hour, then bake for 15 to 20 minutes, until focaccia is golden.
Serve hot or at room temperature.



Copyright © 2000,2012 e-rcps.com, All Rights Reserved
Recipes
Basics
Glossary
FAQ
Cookbooks
Tell a friend

Cooking Classes
Cooking classes in the U.S. and Italy.
---
Gastronomy Tours
Tour Wine & Olive oil country and other regions.
---
Links
Links to other sites of related interest.
---
Sources
Where to buy special ingredients and utensils.
---
Ask the Chef
If you don't find your recipe.
---