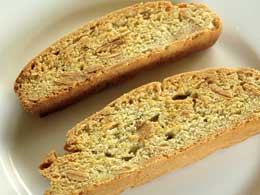 TUSCAN BISCOTTI RECIPE WITH SLIVERED ALMONDS OR CHOCOLATE CHIPS
12 - 14 Biscotti
Prep:20, Cook:1:30
Preparation - Easy

These will put you right back into that little piazza!
INGREDIENTS:
2 cups all-purpose flour
1 1/2 teaspoons baking powder
1/4 teaspoon salt
1/2 to 3/4 cup sugar
1/2 cup (1 stick) unsalted butter, room temperature
2 large eggs
1 teaspoon ground anise seed (I leave these whole and add the cardamom)
1 teaspoon ground cardamom (optional)
1 cup slivered almonds (unsalted) or you can use 1 cup semisweet chocolate chips
Parchment paper, large cookie sheet, 2 mixing bowls, electric mixer or strong mixing arm and mixing spatula.


METHOD:
PREHEAT the oven to 350 degrees F.
LINE a heavy large cookie sheet with parchment paper.
COMBINE the flour, baking powder, and salt in a medium bowl and mix well.
IN a separate bowl large enough to combine all ingredients, beat the sugar and butter together until well blended using electric mixer or manually.
BEAT in the eggs 1 at a time. Add the flour mixture and beat just until blended. Add the ground anise seed and mix well.
STIR in the slivered almonds or chocolate chips.
SHAPE the dough into a 'log' shape 16-inch-long, 3-inch-wide. Transfer the log to the prepared baking sheet. Bake until light golden, about 30 minutes. Cool 30 minutes.
PLACE the log on the cutting board. Using a serrated knife, cut the log on a diagonal into 1/2- to 3/4-inch-thick slices. Arrange the cookies cut side down on the baking sheet. Bake the cookies until pale golden, about 15 - 20 minutes. Transfer the cookies to a rack and cool completely.
Cookbook we like:



Copyright © 2000,2012 e-rcps.com, All Rights Reserved
Recipes
Basics
Glossary
FAQ
Cookbooks
Tell a friend

Cooking Classes
Cooking classes in the U.S. and Italy.
---
Gastronomy Tours
Tour Wine & Olive oil country and other regions.
---
Links
Links to other sites of related interest.
---
Sources
Where to buy special ingredients and utensils.
---
Ask the Chef
If you don't find your recipe.
---