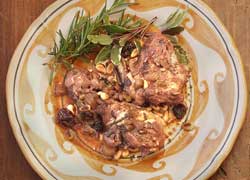 CHICKEN OR RABBIT IN SWEET AND SOUR SAUCE RECIPE
Pollo in agrodolce
Sicily
Time: Prep (marinate):2 hr; Cook: 1 hr; Total: 3 hr.
Preparation - Medium


Serves 6


By: Lo Chef
You can use this recipe with chicken or rabbit. For game like boar or hare, extend marinating and cooking times.
1 chicken cut in pieces
2 1/2 TBSP olive oil
4 TBSP butter
small piece pancetta, bacon or salt pork
1 onion, diced
flour
salt and pepper to taste
2/3 cup of chicken or vegetable broth
2 1/2 TBSP sugar
1/2 cup wine vinegar
4 TBSP white raisins
4 TBSP pine nuts
FOR THE MARINADE:

2 cups red wine
1 small onion. sliced
2 cloves
1 sprig parsley
1 sprig thyme
4 - 5 black peppercorns
salt
Frying pan, non-reactive bowl(glass, stainless, enamel, clay), stew pot or casserole with tight cover.
WIPE the chicken clean. Put all the marinade ingredients into a small pan and slowly bring to boiling point. Take from the heat immediately and set aside until just warm. Put the chicken pieces into a bowl, pour the marinade over the chicken and leave, covered, for 2 hours.

HEAT the oil, butter and salt pork together in a large casserole, and sauté the onion until golden brown. Take the pieces of chicken from the marinade, dry well, coat with flour and fry with the onion.

STRAIN the marinade over the chicken and cook, uncovered, for 20 minutes over a moderate heat. When the wine has almost evaporated and the chicken has darkened, season with salt and freshly ground pepper. Add enough hot stock or water to cover the chicken pieces, cover the pan, lower the heat and simmer, covered, for another 20 minutes. If the sauce seems rather thin and the chicken is already tender, remove the chicken and cook the sauce on higher heat, uncovered, to reduce it.

DISSOLVE the sugar in a small non-reactive pan with 4 tsp water. When it begins to change color and becomes almost golden, add the vinegar, stirring constantly with a wooden spoon. Add the white raisins (sultanas) and cook them for a moment to let them swell. Add the sauce to the casserole, pouring it over the chicken pieces and scraping the bottom of the casserole. Stir in the pine nuts and serve immediately.
AMAZON BEST SELLER



Copyright © 2000,2012 e-rcps.com, All Rights Reserved
Recipes
Basics
Glossary
FAQ
Cookbooks
Tell a friend

Cooking Classes
Cooking classes in the U.S. and Italy.
---
Gastronomy Tours
Tour Wine & Olive oil country and other regions.
---
Links
Links to other sites of related interest.
---
Sources
Where to buy special ingredients and utensils.
---
Ask the Chef
If you don't find your recipe.
---