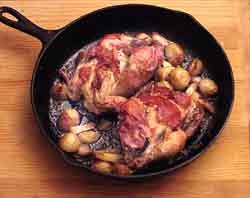 ROASTED GAME HENS RECIPE
Pollastrini arrosti
 +Lo Chef.
Tuscany
Preparation - Medium
Prep:

20 min

; Cook:

1 hr 15 min

; Total Time:

1 hr 35 min


Yield:

Serves 4 - 6
This recipe for roasting Cornish game hens is adapted from a Tuscan recipe for spit-roasting small birds. Spit-roasting small birds like game hens is tricky, so I do these in the oven instead.
INGREDIENTS:
1 thick slice pancetta or prosciutto
6 Rock Cornish game hens, each about 3/4 pound
6 fresh sage leaves
6 bay leaves, preferably fresh
12 black olives (preferably small Gaeta or nicoise)
Salt and freshly ground black pepper
2 Ts extra virgin olive oil
6 thin slices pancetta or prosciutto
Roasting pan or baking dish large enough to accomodate birds.


METHOD:
MAKE sure that your birds are at room temperature.
PREHEAT the oven to 400 degrees F.
CUT the thick slice of pancetta or prosciutto in 6 equal portions. Tuck a piece of pancetta inside each bird, along with a sage leaf a bay leaf and 2 of the olives, pitted if you prefer. Sprinkle salt and pepper all over the outsides of the birds and rub into the skin, rubbing with some of the olive oil at the same time. Wrap a thin slice of pancetta or prosciutto around each bird, stretching the meat to cover the bird well. Set the birds in a baking dish in which they will all fit comfortably.
ROAST for 45 minutes, then turn down the oven to 325 degrees F. and continue roasting 30 to 45 minutes (for 'lo chef' it was in fact an hour and 15 minutes) longer, or until the birds are done and the juices run clear when the bird is pierced with a fork.
SERVE immediately, with the pan juices as a sauce.
Source:




Copyright © 2000,2012 e-rcps.com, All Rights Reserved
Recipes
Basics
Glossary
FAQ
Cookbooks
Tell a friend

Cooking Classes
Cooking classes in the U.S. and Italy.
---
Gastronomy Tours
Tour Wine & Olive oil country and other regions.
---
Links
Links to other sites of related interest.
---
Sources
Where to buy special ingredients and utensils.
---
Ask the Chef
If you don't find your recipe.
---