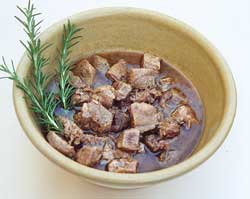 LAMB HUNTER STYLE WITH GARLIC, VINEGAR AND ANCHOVIES
Abbacchio all cacciatora
Rome - Lazio
Preparation - Easy
Prep: 10 - Cook: 1:45
Serves 4 - 6
Unexpectedly tasty!
INGREDIENTS:
2 TBSP pure lard or olive oil
Sprig of fresh rosemary or 1 t dried rosemary
2 lb or more leg or shoulder of lamb, boned and cut into 1 1/2 - 2 inch cubes
2 garlic cloves, peeled and sliced
salt and freshly ground pepper to taste
1/2 cup wine vinegar
1/2 cup hot water
2 salted anchovies, boned, washed and dried or 4 anchovy fillets, chopped
1 tsp oregano
1 tsp flour
Covered stew pot or casserole.


METHOD:
Heat the lard or oil with the rosemary and, when hot, brown the meat on all sides.
Add the garlic, salt and pepper and sauté for a further minute.
Add the vinegar and boil briskly for about 30 seconds. Add the water.
Cook, covered, over very low heat, for about 1 1/2 hours, stirring occasionally.
Chop and put anchovies in a small frying pan with a grinding of pepper and the oregano.
Spoon over them 3 TBSP of the liquid from the lamb and add the flour. Stir over a low heat until the sauce thickens and the flour is cooked.
Mix the sauce into the pan with the lamb.
Cook for a further minute and serve.



Copyright © 2000,2012 e-rcps.com, All Rights Reserved
Recipes
Basics
Glossary
FAQ
Cookbooks
Tell a friend

Cooking Classes
Cooking classes in the U.S. and Italy.
---
Gastronomy Tours
Tour Wine & Olive oil country and other regions.
---
Links
Links to other sites of related interest.
---
Sources
Where to buy special ingredients and utensils.
---
Ask the Chef
If you don't find your recipe.
---