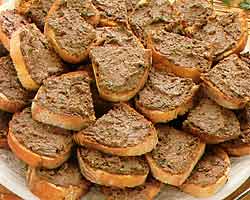 TOAST WITH CHICKEN LIVER PATE
Crostini alla Chiantigiana
Tuscany, Umbria
Preparation - Medium
Prep: 10 min, Cook 60 min
Serves 8
Probably the most popular spread for crostini. Served everywhere in Tuscany with slight variations.
Our ciabatta bread works well for bruschetta or crostini.
1/2 celery stalk, finely chopped
1 small carrot, finely chopped
1 small onion, finely chopped
1/2 lb chicken livers, cleaned, in small pieces
4 T olive oil
2 T butter
1/2 T tomato paste dissolved in 4 T warm water
3 T dry white wine, or marsala wine
1 T capers, rinsed off
1 garlic clove, peeled and finely chopped
2 anchovy fillets, chopped
Salt and freshly ground pepper to taste
bread, either firm white slice bread, or a baguette (long French bread) sliced into rounds
CLEAN chicken livers and cut into small pieces.

SAUTÉ the celery, carrot and onion in the oil and half the butter over medium heat stirring frequently until onion is transparent, about 8 to 10 minutes.

ADD the livers and continue cooking till liver turns color.

ADD the wine and cook over high heat till evaporated.

ADD dissolved tomato paste, cover, cook on low heat for 15 minutes.

REMOVE from heat and let cool, mix in pepper, minced garlic, rest of butter, capers, chopped anchovy.

CHOP or PLACE all ingredients in a food processor and pulse 2 or 3 times, check for seasoning, adding salt and pepper to taste, return to pan for additional 2 - 3 minutes to reduce the pate to the consistency you wish.

CAN be prepared ahead of time and refrigerated up to a day or two

SERVE warm or cool on toasted rounds of French or Italian bread.




Copyright © 2000,2012 e-rcps.com, All Rights Reserved
Recipes
Basics
Glossary
FAQ
Cookbooks
Tell a friend

Cooking Classes
Cooking classes in the U.S. and Italy.
---
Gastronomy Tours
Tour Wine & Olive oil country and other regions.
---
Links
Links to other sites of related interest.
---
Sources
Where to buy special ingredients and utensils.
---
Ask the Chef
If you don't find your recipe.
---