CRAB, CREAM AND BUTTER SAUCE FOR PAPPARDELLE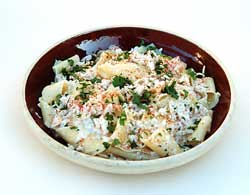 Pappardelle al granchio
Preparation - Easy
Serves 4
Highly recommended. If you can get fresh crab great, otherwise I have prepared it with canned crabmeat. It is economical and outcome delicious! A simple but elegant dish, perfect for company.
2 T unsalted butter
2 six oz. cans crabmeat, drained, or use fresh crabmeat if you have it
3 T dry white wine
2/3 cup heavy cream
1/8 t nutmeg, more or less to taste
salt
1/4 t cayenne pepper, more to taste
10 to 12 oz pappardelle, or the broadest fettuccine you can get
2 T fresh parsley, chopped
Start the sauce when you put the pasta into boiling water to cook.
Melt the butter in a saucepan over low heat.
Add the crab and then the wine stirring as you do.
Raise heat slightly and cook for 2 or 3 minutes till alcohol evaporates.
Add the cream, the cayenne, salt, and nutmeg, stirring with a wooden spoon.
Simmer for 3 or 4 minutes more till sauce has thickened slightly.
Drain the pasta that has been cooked in plenty of lightly salted and boiling water. (Save some of the cooking water in case you want to moisten the sauce.)
Place pasta in large warm bowl and pour sauce over it.
Sprinkle with the parsley and a little more cayenne pepper.
Serve on pre-heated dinner plates.
Tip: Prepare the sauce in a large pan and add the drained pasta, mixing it with the sauce in the pan.



Copyright © 2000,2012 e-rcps.com, All Rights Reserved