<<

PREVIOUS

- BROWSE RECIPES -

NEXT

>>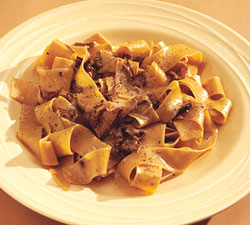 PORCINI MUSHROOMS IN CREAM SAUCE WITH PAPPARDELLE
Funghi porcini con panna
Rome and north
Prep: 15 min; Cook: 30 min - Easy
Serves 4
3/4 oz dried porcini mushrooms - - soaked in hot water for 15 minutes
2 tablespoons unsalted butter
2 tablespoons fresh Italian (broadleaf) parsley
2/3 cup heavy (whipping) cream or half and half
1 tablespoon Parmesan cheese
1/4 teaspoon nutmeg
1/2 tablespoon salt
reserved soaking liquid
1 lb pappardelle - or any broad egg pasta, like taglierini
Skillet or pan large enough to hold all ingredients including the pasta; pasta pot
SOAK porcini mushroom in 1/3 cup hot water for 15 minutes.
STRAIN mushrooms through a sieve reserving soaking liquid. (Easiest way to strain is to place a wet coffee filter in your funnel.)
QUICKLY rinse off mushrooms under cold running water to remove any remaining soil residue.
FINELY chop mushrooms and set aside.
MELT butter in a skillet large enough to hold cooked pasta.
ADD porcini and sauté on medium heat for 5 minutes.
ADD 3 to 4 T of the soaking liquid and cook a further 5 minutes.
MEANWHILE cook pasta till al dente.
WHEN pasta is just about done...
ADD heavy cream to mushroom mixture then add the cheese, the nutmeg to taste, salt and freshly ground pepper, stirring with a wooden spoon.
DRAIN pasta.
ADD to mushroom-cream mixture and toss well.
ADD more soaking liquid if pasta mixture seems to dry.
SERVE with grated Parmesan.
<<

PREVIOUS

- BROWSE RECIPES -

NEXT

>>


Copyright © 2000,2012 e-rcps.com, All Rights Reserved