<<

PREVIOUS

- BROWSE RECIPES -

NEXT

>>
CRAB, RADISH, AND CAPER PASTA SALAD, VINAIGRETTE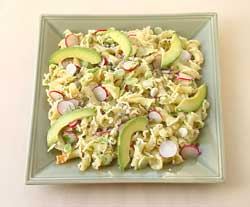 Preparation - Easy
Serves 4 - 6
Can be prepared ahead of time and refrigerated in an air tight container for a day.
2 6 oz cans crab, or 1 or more cups of fresh or frozen crab, to taste
6 T olive oil, more to taste
3 T red wine vinegar or lemon juice, according to taste
1 medium garlic, peeled, very finely minced
3 T capers, drained and rinsed (optional)
2 T fresh parsley, chopped
18 - 20 radish, thinly sliced
4 scallions, cut in 1/2 inch pieces or rounds
1 avocado, sliced (optional)
cayenne pepper, a very light sprinkling (optional)
salt and freshly ground black pepper
12 oz (3/4 package) campanelle (photo), conchiglie, farfalle (bow ties)
Set the pasta water to boil.
In a small bowl, combine olive oil, lemon or vinegar, salt, pepper and garlic.
Prepare crab and other ingredients. Make sure that crab is near room temperature and well drained.
Cook pasta to desired doneness..
Drain well.
Place drained pasta in large bowl, sprinkle with olive oil mixture and toss.
Let stand for 5 minutes, until room temperature.
Add the rest of the ingredients including the oil and vinegar/lemon juice and salt and pepper and toss again.
<<

PREVIOUS

- BROWSE RECIPES -

NEXT

>>


Copyright © 2000,2012 e-rcps.com, All Rights Reserved