GORGONZOLA, ARUGULA, RADICCHIO AND WALNUT SALAD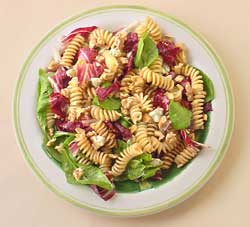 Serves 4 - 6
Preparation: Medium
4 cups lightly packed Arugula, leaves washed and dried off
4 cups radicchio lightly packed, shredded
5 T extra virgin olive oil
2 T red wine vinegar
1 T balsamic vinegar
8 oz or more gorgonzola or blue cheese, broken up with a fork
1/2 to 3/4 cup walnuts, coarsely chopped
salt and freshly ground black pepper to taste
3/4 lb twists, penne or farfalle
Cook the pasta.
In a small bowl, mix oil and vinegar with salt and pepper.
Meanwhile, prepare the arugula, radicchio, cheese and walnuts.
When pasta is cooked to taste, drain and place in a separate bowl large enough to hold the entire salad.
Add dressing and mix well. (Adding the dressing to the warm pasta helps it absorb the flavors more.)
Add the cheese (also while pasta still warm, help it melt slightly.)
Add the radicchio and arugula, toss.
Sprinkle walnuts on surface.
Serve.
You can either serve it immediately, refrigerate for an hour or so or if preparing it several hours ahead of time leave out the radicchio and arugula till last hour or last minute.