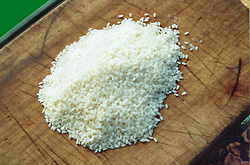 RICE WITH SAUSAGE AND PARMESAN CHEESE RECIPE
Risotto con salsice
Preparation - Medium/Difficult
Serves 4 - 6


INGREDIENTS:
5 T butter
1/2 lb sweet Italian sausage, crumbled
1 medium onion, finely chopped
2 cups Arborio rice
pinch of saffron
salt and pepper
5 to 6 cups chicken broth diluted with water and heated
1/2 cup dry Italian white wine
1/2 cup freshly grated Parmesan cheese
Heavy saucepan with cover.


METHOD:
Brown the sausage in 1/2 the butter in a heavy pan over medium heat.
Add the onion and sauté till soft and transparent.
Stir in the wine and cook till nearly evaporated.
Add the rice and stir till well coated with the butter mixture, continue cooking for a few minutes.
Add the saffron and season lightly with salt and pepper. Pour on a ladleful of hot chicken broth, cooking over medium-high heat stirring frequently.
When broth has been absorbed, add another ladleful. Continue in this way till all the broth has been used up, about 20 to 25 minutes.
Sample the rice after it has cooked for 20 minutes, if you feel it needs more cooking add more liquid and continue to cook to your taste. The rice should be al dente, with a very slight bite to it, with the grains separate, and the rice creamy. Bear in mind that different brands and qualities of rice will need more or less liquid.
Add the rest of the butter and the cheese; mix well with a wooden spoon, cover and let sit for a couple of minutes.
Serve onto pre-warmed plates. Have extra grated cheese at table.



Copyright © 2000,2012 e-rcps.com, All Rights Reserved
Recipes
Basics
Glossary
FAQ
Cookbooks
Tell a friend

Cooking Classes
Cooking classes in the U.S. and Italy.
---
Gastronomy Tours
Tour Wine & Olive oil country and other regions.
---
Links
Links to other sites of related interest.
---
Sources
Where to buy special ingredients and utensils.
---
Ask the Chef
If you don't find your recipe.
---