<<

PREVIOUS

- BROWSE RECIPES -

NEXT

>>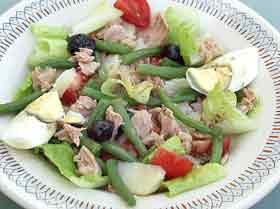 OUR SALADE NICOISE RECIPE
Prep and assemble: 30 min - Easy
Serves 4 - 6
Delicious as a main course or a side dish.
3 medium red-skinned or yukon gold potatoes, boiled, peeled and sliced
3 fresh medium tomatoes or 14 fresh cherry tomatoes, quartered
3 hard boiled eggs, quartered
14 olives, black dry-cured if possible (nicoise, kalamata or gaeta best)
1 lb string beans, steamed
2 6 oz. cans tuna, drained and crumbled
1 small can anchovy fillets, drained
1/2 romaine (cos) lettuce
1/2 cup vinaigrette salad dressing
salt & freshly ground black pepper to taste
1 tsp fresh thyme, oregano or tarragon to taste (optional)
Large glass or ceramic salad bowl.
PLACE all ingredients in a large bowl.
POUR on vinaigrette to taste.
SALT and pepper to taste.
TOSS lightly and serve.
<<

PREVIOUS

- BROWSE RECIPES -

NEXT

>>


Copyright © 2000,2012 e-rcps.com, All Rights Reserved