BREAD, TOMATO, ONION AND CUCUMBER SALAD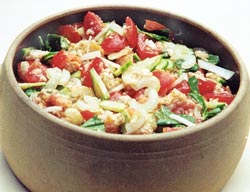 Panzanella
Serves 4
Time: 30 min
All over Italy there are versions of this antipasto, which is also a lunchtime salad. The word panzanella comes from the Roman word panza, meaning belly. Panzanella was served in large Roman families to fill the diners' stomachs before the more expensive second courses were passed around. Make it with day-old Italian bread and firm but fully ripe tomatoes. The round, rustic loaves are best for this.
8 slices French or Italian country style bread 2 days old (or toasted), in slices 2 inches thick
1/4 cup Spanish or Bermuda onion, less to taste
1 stalk celery, tender, sliced, or thinly sliced celery heart
1 small cucumbers, thinly sliced
2 1/2 cups firm, ripe tomatoes, coarsely chopped
1/2 cup lightly packed fresh basil leaves, washed and shredded
salt and freshly ground black pepper to taste
4 TBSP extra virgin olive oil, more to taste
1 1/2 TBSP red wine vinegar, more to taste
Soak the onions in a small bowl with cold water and 1 teaspoon salt for an hour. The soaking helps reduce the sharpness and improve digestibility.
Drain the onions on paper towels.
Soak the bread in cold water to cover for about ten minutes.
Wash the celery heart in cold water without separating the stalks. Dry and slice thinly into a serving bowl.
Peel the cucumber and quarter lengthwise; dice and add to the bowl.
Dip the tomatoes into boiling water for 1 minute; peel, seed, dice, and add to the bowl.
Shred the basil and add to the bowl.
Drain the bread, squeezing each slice to eliminate as much water as possible, then crumble and add to the bowl.
Season the contents of the bowl with salt and pepper to taste; mix the oil and vinegar and add.
Toss and serve at once.
Note: If fresh basil is not available, dried oregano can be substituted.