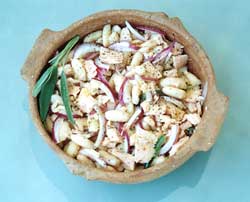 TUNA AND BEAN SALAD RECIPE
Fagioli col tonno
Tuscany
Preparation - Quick & Easy
Serves 4
Tuscans and beans. One of the best-known Florentine dishes yet easy to prepare, attractive, delicious. If you can get Italian cannellini beans and have the time to cook them well, otherwise use canned white beans. Perfect for picnics, barbecues or for lunch. Sliced ripe tomatoes with some good olive oil and a sprinkling of coarse salt are a perfect match for this. A loaf of fresh crusty bread completes an attractive luncheon menu.
2 15 oz can white beans, such as Great Northern or cannellini
1 6 oz can premium quality tuna packed in oil, drained - Italian is best
1/2 Spanish onion, more to taste, thinly sliced, soaked
5 TBSP extra virgin olive oil
salt and freshly ground black pepper
PLACE sliced onion in small bowl, cover with cold water and 1/2 tsp salt, soak for an hour or more. (This process is sometimes used when a recipe calls for raw onions. It reduces the sharpness of the onion.)

DRAIN and lay on paper towels.

RINSE beans in cold water and drain well.

PLACE beans in a bowl.

DRIZZLE with 2 TBSP olive oil, salt and a generous amount of pepper.

DRAIN tuna well and distribute on beans.

SCATTER onion on top of tuna and beans.

POUR the rest of the olive oil, toss lightly and taste for seasoning adding salt and pepper to taste.

Serve.



Copyright © 2000,2012 e-rcps.com, All Rights Reserved
Recipes
Basics
Glossary
FAQ
Cookbooks
Tell a friend

Cooking Classes
Cooking classes in the U.S. and Italy.
---
Gastronomy Tours
Tour Wine & Olive oil country and other regions.
---
Links
Links to other sites of related interest.
---
Sources
Where to buy special ingredients and utensils.
---
Ask the Chef
If you don't find your recipe.
---