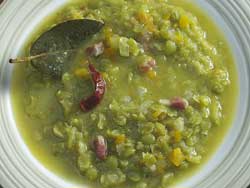 TRADITIONAL PEA SOUP
Prep: 15 min; Cook: 2:30 - Easy
Serves 4 - 6
This delicious split pea soup takes a bit of time to prepare, but if you crave a satisfying soup, this is perfect. You can add cooked hot dogs or sausage cut in bite-size pieces at the end.
INGREDIENTS:
2 TBSP good olive oil
2 TBSP butter
3 slices bacon, or 1 ounce pancetta, chopped
1 medium white onion, diced
2 carrots, diced
2 stalks celery, diced (you can include the leaves)
2 cloves garlic, chopped
1/2 dried hot pepper, or 1/2 tsp hot pepper flakes
2 cups split peas
1 bay leaf
salt to taste
Large, covered pot.


METHOD:
WASH and drain the split peas and set aside.
IN a large, covered pot, heat the olive oil, butter and bacon/pancetta. Saute until bacon slightly transparent.
ADD the carrots, onion, celery, garlic and hot pepper and a pinch (1/4 tsp) of salt. Saute gently on low-medium heat, stirring occasionally, until the onion is transparent (10-15 minutes). Do not brown or burn.
ADD the peas and bay leaf. If you have a ham hock or turkey carcass you can add it here.
ADD enough fresh, cold water to cover the peas.
BRING to a low simmer.
COVER the pot. The peas will absorb the water, so check every 15 minutes or so to make sure that water covers the peas, add water as necessary. Taste for doneness (about 2 hours).
TIP: take one or more cups of the soup and process in blender for a thicker, more homogenized soup.
TASTE for seasoning, add salt and fresh ground black pepper if you like it. Add cooked sausage chunks here, or serve in separate plate.
SERVE with good bread or croutons.
AMAZON BEST SELLER



Copyright © 2000,2012 e-rcps.com, All Rights Reserved
Recipes
Basics
Glossary
FAQ
Cookbooks
Tell a friend

Cooking Classes
Cooking classes in the U.S. and Italy.
---
Gastronomy Tours
Tour Wine & Olive oil country and other regions.
---
Links
Links to other sites of related interest.
---
Sources
Where to buy special ingredients and utensils.
---
Ask the Chef
If you don't find your recipe.
---