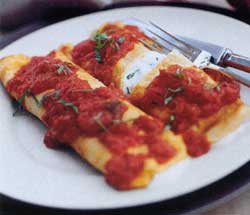 MANICOTTI MADE WITH CREPES

AND THREE CHEESES
Preparation - Medium
Prep:

20 min

- Cook:

40 min

- Total:

1 hour


Serves 8
This is one of three ways to make manicotti 'shells'. See MAKING CANNELLONI or MANICOTTI for using pasta sheets. You can use any stuffing and sauce.
FOR THE STUFFING:
2 cups ricotta cheese (15 ounces), preferably fresh
1 cup shredded mozzarella (about 6 ounces)
1 cup grated parmesan
2/3 cup coarsely chopped basil
Salt to taste
1/2 teaspoon freshly ground pepper
FOR THE CREPES:
1 cup all-purpose flour
1 cup water
4 large eggs, lightly beaten
Unsalted butter
3 cups tomato sauce, like BASIC TOMATO SAUCE or TOMATO SAUCE
2 tablespoons freshly grated Parmesan cheese
Large bowl, mixer, crepe pan or skillet, 3 quart baking dish.


METHOD:
IN a large bowl, combine the ricotta with the mozzarella, basil, 1 teaspoon of salt and the pepper.
IN a blender, process the flour, water, eggs and 1/2 teaspoon of salt until smooth. Transfer to a bowl.
HEAT an 8-inch crepe or omelet pan over moderately high heat. Lightly butter the pan and add 2 tablespoons of the batter; working quickly, swirl the pan to coat it evenly. Cook until the top of the crepe is dry and the bottom is lightly golden, about 1 minute. Flip the crepe and cook until the bottom is lightly golden, about 20 seconds longer. Transfer the crepe to a large plate and repeat with the remaining batter to make a total of 16 crepes.
PREHEAT the oven to 375 degrees. Coat the bottom of a 3-quart baking dish with 1 cup of the tomato sauce. Arrange the crepes on a work surface. Spoon 3 tablespoons of the ricotta filling in a line down the center of each crepe. Loosely roll up the crepes and arrange them, seam side up, side by side in the baking dish. Pour the remaining 2 cups of tomato sauce over the manicotti and sprinkle with the Parmesan cheese. Bake for 15 to 20 minutes, or until the tomato sauce is bubbling and the manicotti are heated through. Serve piping hot.
MAKE AHEAD: The unbaked manicotti can be refrigerated overnight. Allow up to 15 minutes longer for baking.



Copyright © 2000,2012 e-rcps.com, All Rights Reserved
Recipes
Basics
Glossary
FAQ
Cookbooks
Tell a friend

Cooking Classes
Cooking classes in the U.S. and Italy.
---
Gastronomy Tours
Tour Wine & Olive oil country and other regions.
---
Links
Links to other sites of related interest.
---
Sources
Where to buy special ingredients and utensils.
---
Ask the Chef
If you don't find your recipe.
---