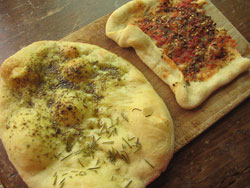 OVERNIGHT PIZZA RECIPE
keep the dough in the fridge until you're ready...
Pizza
Prep:18 hours, Cook:6 - 8 minutes
Preparation - Easy
Serves 4 - 8
We make this a couple of days ahead - you can let the dough rise, and stay risen, in the refrigerator until a few hours before you want to make your pizza (I've left it for 4 days, so far). When you want to make pizza, take the dough out of the refrigerator and divide it, let it warm up a bit, then roll it out and let it rest for about 45 minutes until your oven comes up to 500 degrees.
The dough gets its slightly tangy flavor from a "sponge" or "biga" - the flour/yeast/water mixture that ferments overnight.
Amount in parenthesis for half the amount - 3 or 6 pizzas - this will vary depending on thickness and diameter.
INGREDIENTS:
SPONGE - the night before 8 - 12 hours
- (half portion in parenthesis)
1 (1/2) cup lukewarm water - you can hold a finger in it for 6 or so seconds.
1 (1/2) tsp active dry yeast
1 (1/2) cup all purpose flour
DOUGH
1 1/2 (3/4) cups lukewarm water
2 (1) tsp salt
3 1/4 (1 3/4) tsp active dry yeast
6 (3) cups all purpose flour plus extra for working the dough - if you can get 00 Italian flour, try it for taste
Olive oil
Mixing bowl large enough for dough to double in volume, mixing machine or bread machine or mixing implements. Pizza stone or tiles, large wooden paddle to lay pizza on for moving to the oven.
NOTE, FOR TOPPING: You can use a prepared spaghetti sauce of your choice, plus grated mozarella. My favorite is with our home-canned fresh tomatoes, a sprinkling of oregano and string mozarella. Pizza bianca would be with olive oil, a light sprinkling of salt and chopped fresh (or dried) rosemary.
METHOD:
SPONGE - the night before
Place water in large bowl. Sprinkle yeast and 1/4 tsp flour over water and mix well. Let stand until yeast dissolves. Add remaining flour and mix until smooth. Cover bowl with plastic wrap. Let sponge rest at room temperature in draft-free area overnight (about 12 hours; sponge will look foamy).
DOUGH
If you've got a good arm, you can do this by hand - we use a bread machine (just for the kneading), which is cheaper than a mixer with a dough hook.
ADD water, salt, yeast to sponge, then add flour, 1 cup at a time, beating with dough hook to blend after each addition. Continue to beat until dough is smooth, comes cleanly away from sides of bowl, and is only slightly sticky to touch, scraping down bowl occasionally, about 5 minutes. If dough is very sticky, beat in more flour, 1/4 cupful at a time. Scrape dough onto floured surface; knead into smooth ball.
BRUSH inside of large bowl with oil. Add dough; turn to coat with oil. Cover bowl with plastic wrap; chill 6 hours, or several days.
ABOUT 1 1/2 hours before baking, turn dough out onto floured surface. Knead gently; shape into 16-inch log. Cut into 8 equal pieces. Knead each piece into smooth ball. Arrange 4 balls of dough on each sheet. Cover loosely with kitchen towels and let rise until almost doubled and springs back very slowly when you poke it with your finger, 1 to 1 1/4 hours.
IF using pizza stone, place in oven. You'll get better results if you use a stone, or tiles, to get that crispy, browned bottom crust.



PREHEAT oven to 500 deg. F for 45 minutes. Working with 1 dough ball at a time, dust dough with flour. Press into 5-inch round, then gently stretch and roll out to 9-inch round.
IF using pizza stone, sprinkle wooden paddle (you can also use and upside down baking sheet) or rimless baking sheet with cornmeal. If not using pizza stone, sprinkle large baking sheet with cornmeal. Place rolled dough round on cornmeal; brush lightly with oil. Top as desired. Slide pizza onto stone or place pizza on baking sheet into oven.
BAKE pizza until sauce is bubbling and crust is crisp and brown, about 6 - 8 minutes.
Cookbook we like:



Copyright © 2000,2012 e-rcps.com, All Rights Reserved