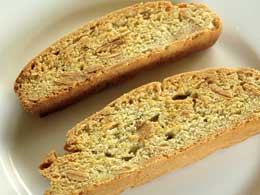 CANTUCCI - QUERESIMALI - LENTEN BISCUITS RECIPE
Cantucci, Quaresimali
About 4 - 7 dozen depending on cut
Takes time but mine worked first time!
Known by different names (biscotti, cantucci, quarismali), these biscuits can be found all over Italy, especially at Easter time. This recipe is from Sicily.
INGREDIENTS:

2 cups unbleached all-purpose flour
1 1/2 teaspoons baking powder
1/4 teaspoon salt
3/4 cup blanched whole almonds
3 eggs
3/4 cup sugar
1/4 cup sweet wine, such as Marsala
1/2 teaspoon grated orange zest
Mixing bowl, baking sheet, parchment paper.
SIFT the flour, baking powder, and salt into a large mixing bowl. Stir in the almonds. a small bowl, beat together 2 of the eggs, the sugar, wine, and zest until well blended Stir into the flour mixture and mix until a dough forms.
TURN the dough out onto a lightly floured work surface and knead it gently a few times distribute the almonds evenly. Divide the dough into 3 pieces and shape each piece into log that is 8 inches long by 1 1/2 inches thick. Place the logs 3 inches apart on the greased baking sheet (or use parchment paper). Beat the remaining egg lightly and brush the tops of the logs with it.
BAKE the logs for 25 to 30 minutes, or until nicely browned and firm to the touch. Remove from the oven and allow to cool for no more than 10 minutes - they will harden quickly. Reduce the oven temperature to 325 degrees.
WITH a very sharp knife, cut the logs into 1/4 - 1/2 -inch-thick slices and lay the slices on two baking sheets. Return the cookies to the oven and bake for another 15 to 20 minute or until dark golden brown. Cool on a rack.
Cookbook we like:



Copyright © 2000,2012 e-rcps.com, All Rights Reserved
Recipes
Basics
Glossary
FAQ
Cookbooks
Tell a friend

Cooking Classes
Cooking classes in the U.S. and Italy.
---
Gastronomy Tours
Tour Wine & Olive oil country and other regions.
---
Links
Links to other sites of related interest.
---
Sources
Where to buy special ingredients and utensils.
---
Ask the Chef
If you don't find your recipe.
---