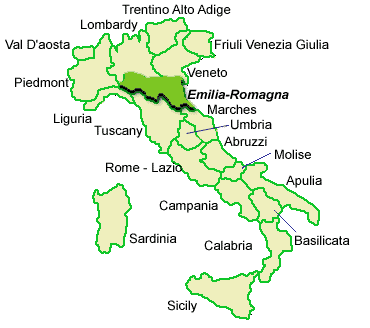 RECIPES FROM THE EMILIA ROMAGNA REGION
Emilia Romagna

The plain skirting the Apennines derives its name from the Via Emilia, a straight Roman road that crosses it from Piacenza to Rimini. South and east of Bologna the district is known as Romagna. Its soil, which is intensively cultivated, is among the best in Italy for wheat and beet. The monotonous landscape consists of extensive fields intersected at regular intervals by rows of mulberries and vines clinging to tall poles, maples or elms. Other vines grow on the slopes of the Apennines.



The towns are strung out along the Via Emilia: the most important, Bologna, famous for its very old university, is today a communications and industrial (steel, engineering and food) centre and a market for wheat and pigs.
The region to the east of Ferrara through which runs the Po River is devoted to rice growing. To the south is an area of great lagoons, Valli di Comacchio, where fishermen catch eels. Ravenna, which has been somewhat revived by its port and its oil refinery, was once the capital of the Western Roman Empire, and the chief town of Romagna before the creation of Emilia-Romagna, with Bologna as the regional capital.



This is an eminently gastronomical region, whose pork-butchers' meat is the most famous in Italy: Bologna salami and mortadella, Modena zamponi (pigs' trotters), Parma prosciutto (ham). Pastas are varied and tasty when served a la bolognese - that is, with meat-gravy and tomato sauce, Parmesan cheese (parmigiano), hard and pale yellow, is strong and delicate in flavour.



Emilia produces Lambrusco, a fruity, sparkling red wine, and white Albano.



From the 'Michelin Guide to Italy'
Appetizers

Soups

Pastas


Copyright © 2000,2012 e-rcps.com, All Rights Reserved