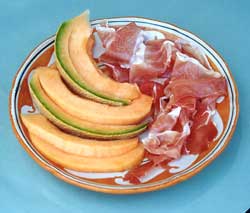 PROSCIUTTO WITH MELON OR FIGS
Proscuitto e melone o ficci
Emilia Romagna
Serves 6
Preparation - Easy
The best prosciutto for this elegant dish is the delicate "Prosciutto di Parma". A great play of sweet and salty. Serve with slices of fresh Italian bread.
Have the prosciutto sliced razor thin.
Alternate thin slices of cantaloupe with the prosciutto.
Alternatively, serve with fresh, ripe cold figs.
For a buffet dinner or cocktail party, wrap the melon with the prosciutto in bite size pieces, sticking a toothpick in each piece for easy handling.
Or simply place the wedges of melon on individual plates and drape the melon over them.
Have a pepper grater on hand as some like a few flecks of pepper on it.



Copyright © 2000,2012 e-rcps.com, All Rights Reserved
Recipes
Basics
Glossary
FAQ
Cookbooks
Tell a friend

Cooking Classes
Cooking classes in the U.S. and Italy.
---
Gastronomy Tours
Tour Wine & Olive oil country and other regions.
---
Links
Links to other sites of related interest.
---
Sources
Where to buy special ingredients and utensils.
---
Ask the Chef
If you don't find your recipe.
---