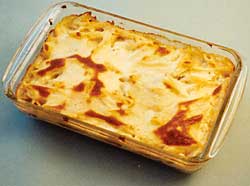 BAKED MACARONI OR PENNE WITH SHRIMP AND MUSHROOMS
Timpano del Cardinale Alberoni
Emilia-Romagna
Preparation - Medium
Serves 6
Cardinal Alberoni was a distinguished 18th-century clergyman from Piacenza in Emilia-Romagna; he was a statesman, a remarkable soldier, a high-ranking churchman a great gourmet. He is said to have advised the Spanish court on table manners and menus. Several recipes were created by the cardinal, including the one given here. Alberoni believed that "a good table makes good friends".
INGREDIENTS:
1 1/2 lbs fresh mushrooms very thinly sliced (may be prepared ahead of time and frozen or refrigerated)
6 T butter
salt
3 cups shelled medium shrimp (frozen: defrost and dry off on paper towels)
3 T brandy or Cognac (optional)
1 cup freshly grated Parmesan cheese
Béchamel sauce made with 3 cups milk, 4 T butter and 6 T flour, flavored with a pinch of nutmeg
Freshly ground black pepper
12 oz macaroni or penne (about 4 cups)
Frying pan, pasta pot, oven-proof dish.


METHOD:
Preheat oven to 400 F.
Sauté the mushrooms in 4 T of the butter for 5 minutes. Sprinkle with salt and set aside.
Melt the rest of the butter and sauté the shrimp gently for 2 minutes, stir occasionally with a wooden spoon.
Add the brandy to the shrimp, set alight and when flame dies down (a few seconds), add half the cheese. Remove from heat and keep warm. (Note: If you prefer not to light the brandy, cook a further 30 seconds or so.)
Cook the pasta. Drain when al dente and rinse with cold water.
Butter a deep ovenproof dish and cover the bottom with about 1/2 the pasta.
Spread the mushrooms and shrimp over the pasta and a few grinds of the pepper mill.
Cover the mushroom/shrimp with the remaining pasta.
Spread the béchamel on top and bake for 20 minutes, raising the heat to 450 F the last ten minutes.
Bake till nutty brown in color. Allow to stand for 5 minutes before serving.



Copyright © 2000,2012 e-rcps.com, All Rights Reserved
Recipes
Basics
Glossary
FAQ
Cookbooks
Tell a friend

Cooking Classes
Cooking classes in the U.S. and Italy.
---
Gastronomy Tours
Tour Wine & Olive oil country and other regions.
---
Links
Links to other sites of related interest.
---
Sources
Where to buy special ingredients and utensils.
---
Ask the Chef
If you don't find your recipe.
---