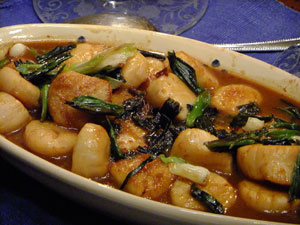 SEARED SEA SCALLOPS WITH GINGER RECIPE
Preparation - Medium
Prep: 15 min - Cook: 10 min
Serves 4
Get the freshest (non-farm if possible) sea scallops (the large ones) you can. What makes these scallops special is the top and bottom crust you get from searing them in hot oil.
INGREDIENTS:
2 teaspoons roasted sesame oil, divided
4 (1-inch) diagonally cut green (spring) onions
1 teaspoon peanut oil
1 1/2 pounds medium sea scallops
1/4 teaspoon salt, divided
1/4 cup fresh orange juice
1/4 cup mirin (sweet rice wine)
2 tablespoons lemon juice
2 tablespoons low-sodium soy sauce
1/4 teaspoon grated fresh ginger
1/4 teaspoon crushed red pepper
1 teaspoon water
1/2 teaspoon cornstarch
Iron skillet or non-stick skillet you've figured out how to 'brown' in.


METHOD:
HEAT 1 teaspoon sesame oil in a large cast-iron or heavy skillet over high heat. Add onions; sauté 1 minute or until wilted. Remove from pan; set aside.
ADD remaining 1 teaspoon sesame oil and peanut oil to pan. Pat scallops dry with paper towels; sprinkle with 1/8 teaspoon salt. Add scallops to pan; cook 2 minutes or until golden brown. Turn scallops; reduce heat to medium, and cook 1 minute or until scallops are done. Remove scallops from pan; keep warm.
ADD orange juice, mirin, lemon juice, soy sauce, ginger, red pepper, and remaining 1/8 teaspoon salt to pan; bring to a boil. Reduce heat, and simmer 3 minutes. Combine 1 teaspoon water and cornstarch; stir into sauce. Cook 30 seconds or until sauce begins to thicken. Add scallops to pan; toss to coat. Top with cut green onions.
Cookbook we like:



Copyright © 2000,2012 e-rcps.com, All Rights Reserved