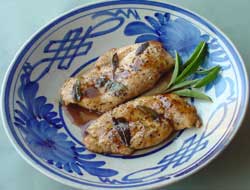 CHICKEN BREAST WITH SAGE

AND LEMON RECIPE
Petto di pollo con salvia
 +Lo Chef.
Preparation - Easy
Prep:

10 min

- Cook:

10 min

- Total:

20 min


Yield:

Serves 2




Q&E
Great for summer lunch!
INGREDIENTS:

1 whole chicken breast, sliced in two, or placed between plastic wrap and pounded to desired thickness
Sage fresh, 6-8 leaves- whole - more to taste (you could also use dried oregano)
1 T butter
1 T lemon juice
1-2 T dry white wine
Salt and freshly ground pepper
Sauté pan; plastic wrap and mallet if you want to flatten instead of slicing in half)


METHOD:
SLICE chicken breast in half (or place between two sheets of plastic wrap and pound flat with mallet or rolling pin) and pat dry with paper towel (will brown better), season with salt and pepper.


HEAT in a medium sized skillet along with sage leaves, when butter is hot and begins to bubble, raise heat to medium high and add chicken breasts.
BROWN on both sides, 1 1/2 to 2 minutes per side. Remove to separate warm plate.
ADD lemon juice to pan and scrape dripping from bottom of pan, add the wine or more lemon juice and a teaspoon of water and heat through, reducing (just below a simmer until liquid thickens) slightly.
RETURN chicken to pan, heat through, 1 - 2 minutes.
SERVE



Copyright © 2000,2012 e-rcps.com, All Rights Reserved
Recipes
Basics
Glossary
FAQ
Cookbooks
Tell a friend

Cooking Classes
Cooking classes in the U.S. and Italy.
---
Gastronomy Tours
Tour Wine & Olive oil country and other regions.
---
Links
Links to other sites of related interest.
---
Sources
Where to buy special ingredients and utensils.
---
Ask the Chef
If you don't find your recipe.
---