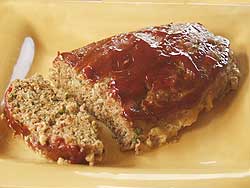 TURKEY MEATLOAF RECIPE
 +Lo Chef.
Prep:

20 min

; Cook (saute and bake):

60 min

; Total Time:

1 hr 20 min




Difficulty: Medium


Yield:

Serves 6
Tasty and easy to prepare variation of meatloaf using ground turkey.
INGREDIENTS:
1 1/2 lb ground turkey
2 TBSP butter or vegetable oil
1 cup onion finely chopped
1 cup mushrooms,thinly sliced (optional, nice change, canned OK, 1 small can)
1/4 cup chicken broth or water
3/4 cup plain breadcrumbs
1/2 cup finely chopped parsley
1 TBSP tomato paste
1 1/2 TBSP Worcestershire sauce
3/4 tsp Salt
1/4 tsp freshly ground pepper
1/2 tsp oregano or thyme
1 egg
1/2 cup Ketchup, optional
Skillet, meat loaf pan


METHOD:
PREHEAT oven to 350 deg. F.
LIGHTLY grease a pan or glass baking dish.
IN a skillet heat butter or oil.
ADD chopped onions and sliced mushrooms.
SAUTÉ over medium low heat till soft, stirring occasionally about 10 min.
MEANWHILE combine the rest of the ingredients in a large bowl.
FORM meat mixture into a 5X8 inch loaf and place into pan or on sheet.
SPREAD ketchup over top of loaf.
COVER lightly with tin foil.
BAKE for 30 minutes.
REDUCE oven to 325 deg. F. , UNCOVER and bake for a further 25 - 30 minutes.
SERVE with a tossed green salad and mashed potatoes

Cookbook we like:



Copyright © 2000,2012 e-rcps.com, All Rights Reserved
Recipes
Basics
Glossary
FAQ
Cookbooks
Tell a friend

Cooking Classes
Cooking classes in the U.S. and Italy.
---
Gastronomy Tours
Tour Wine & Olive oil country and other regions.
---
Links
Links to other sites of related interest.
---
Sources
Where to buy special ingredients and utensils.
---
Ask the Chef
If you don't find your recipe.
---