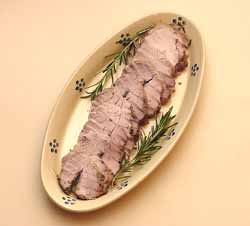 FLORENTINE ROAST LOIN OF PORK - Nancy Harmon Jenkins
Arista di maiale
Tuscany
Preparation - Easy
Serves 10 -12
There is a story that's always told about arista. It sounds apocryphal, but no less an authority than Pellegrino Artusi, the great 19th-century cook, gastronome, and recipe compiler, says the dish was served at a church council meeting in Florence in 1430 to, in Artusi's words, "smooth out some differences between the Roman and Greek Churches." when the Greek bishops were served this famous Florentine roast, they were heard to murmur "Arista! Arista!" which in Greek means "This is really terrific!" And arista it has been ever since.
Arista di maiale, pork loin roasted in rosemary and garlic, is served all over Tuscany, in farmhouse kitchens, at bourgeois tables, in trattorie and tavole calde. The best is roasted on a rotating spit, a girarrosto, before the fire, but it is also put into the bread oven after the bread comes out. It is good hot straight from the oven and even better cold the day after. Sliced very thinly and put between two slices of country bread, it makes a terrific sandwich, and it often appears on an antipasto tray along with sliced sausages and prosciutto. Ask the butcher to bone out a loin roast of pork but leave the undercut attached. This will give you two pieces of unequal size, attached at the bottom.
When opened out flat, it will look like a book that is open about two-thirds of the way through. You will also need butcher's twine to tie the roast once you have stuffed it
Hot from the oven, this is delicious with garlic mashed potatoes with olive oil or garlic-roasted potatoes with black olives. Or, if you wish, add peeled potatoes, carrots, and onions to the roasting pan for the final hour of cooking, turning the vegetables in the pan juices and basting them from time totime. Cold the next day, arista makes a fine accompaniment to Lentil and Green Olive Salad.
INGREDIENTS:
4 pounds boneless pork loin, or filet in one piece
7 or 8 fresh rosemary sprigs
4 garlic cloves, chopped
1 1/2 teaspoons salt
freshly ground black pepper to taste
2 tablespoons extra-virgin olive oil
1/2 cup dry white wine
Twine to tie up the roast.
Roasting pan with rack.


METHOD:
PREHEAT the oven to 375 degrees. Open the pork loin out on a work table or cutting board. Strip the needles from 4 rosemary sprigs and combine them with the garlic. Chop the two together to make a coarse mixture.
IN a small bowl, combine the garlic and rosemary with a teaspoon of salt and a good quantity of black pepper.
ADD a tablespoon of the olive oil and mix well. Rub the inside of the pork with this mixture. Roll the two sides of the pork together and tie them with butcher's twine every 2 inches or so along the whole length of the roast. As you tie, work the remaining rosemary sprigs in under the twine so that the rosemary is evenly dispersed on the outside of the pork.
WHEN the pork is tied up, rub the outside with the remaining salt and olive oil
SET it on a rack in a roasting pan and roast for 1 hour, basting with the wine and the pan juices every 20 minutes or so. Then reduce the heat to 325 degrees and continue roasting and basting. A 4-pound boneless loin should be done in about 1 1/2 hours. If you prefer your pork very well done, leave it in the oven for 2 hours in all. As soon as it is done, remove from the oven and set aside for 10 minutes before slicing.
DEGREASE the pan juices and serve them with the pork.
Nutritional Data, per portion
Calories 307   Carbohydrate 1 g  Saturated Fat 6g
Protein 31g    Sodium 336mg      Monounsaturated
Fat 19g        Cholesterol 94mg  Fat 9g
Source:
Mediterranean Diet Cookbook
Nancy Harmon Jenkins
Bantam Books



Copyright © 2000,2012 e-rcps.com, All Rights Reserved
Recipes
Basics
Glossary
FAQ
Cookbooks
Tell a friend

Cooking Classes
Cooking classes in the U.S. and Italy.
---
Gastronomy Tours
Tour Wine & Olive oil country and other regions.
---
Links
Links to other sites of related interest.
---
Sources
Where to buy special ingredients and utensils.
---
Ask the Chef
If you don't find your recipe.
---