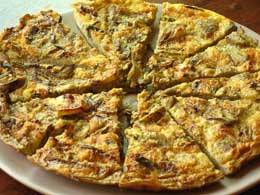 OMELET WITH POTATOES AND ZUCCHINI
Frittata con patate e zucchini
Preparation - Easy; Prep: 10 - Cook: 15
Serves 2 - 4
An easy and tasty way to use up leftover potatoes, zucchini, leeks or other vegetables. A frittata can be prepared ahead of time and is good for picnics. Makes a wonderful meal with crusty Italian bread and a tomato salad. Can be served warm or at room temperature.
INGREDIENTS;
1 cup peeled diced potatoes
1 medium-sized zucchini, cubed small
3 T Olive oil
4 eggs, light beaten
1/4 cup freshly grated Parmesan cheese
Salt and pepper to taste
Mizing bowl, skillet, broiler for finish.


METHOD:
PEEL and dice the potatoes. Bring a small saucepan of water to a boil, and cook the potatoes until soft but firm. Drain. Or use leftover, cooked potatoes, diced.
IN a bowl, beat the eggs with salt, pepper, grated cheese.
TURN on broiler to preheat.
HEAT 2 T olive oil in a skillet that you can eventually place under the broiler.
ADD the cubed zucchini. Cook till just tender and golden.
ADD the potatoes and cook a further minute. Add and heat the rest of the olive oil.
ADD the beaten egg seasoned with salt, pepper and the grated cheese.
COOK on medium heat until the bottom of the frittata solidifies and the edges turn up.
PLACE the skillet under the broiler to cook and brown the top.
ALTERNATIVELY, if you have no broiler, place a flat plate over the skillet and turn the frittata onto the plate. Slide the omelet back into the pan with cooked side up.
HEAT till cooked through.
SERVE.
Cookbook We Like:



Copyright © 2000,2012 e-rcps.com, All Rights Reserved
Recipes
Basics
Glossary
FAQ
Cookbooks
Tell a friend

Cooking Classes
Cooking classes in the U.S. and Italy.
---
Gastronomy Tours
Tour Wine & Olive oil country and other regions.
---
Links
Links to other sites of related interest.
---
Sources
Where to buy special ingredients and utensils.
---
Ask the Chef
If you don't find your recipe.
---