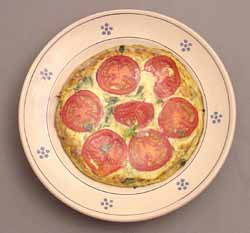 OMELET WITH TOMATO, BASIL AND CHEESE
Frittata al pomodoro, basilico e formaggio
Preparation - Easy; Prep: 10 - Cook: 15
Serves 2 - 4
Frittatas are versatile, quick and easy to prepare using ingredients on hand or fresh vegetables in season. You can add salami or proscuitto if you like, some scallions, ricotta salata or feta cheese, olives, herbs, spinach and so on. It can be prepared ahead of time, served at room temperature making it perfect for picnics and ideal for a quick and satisfying supper when accompanied by crusty Italian bread and a tossed green, mixed or tomato salad. Can be served hot or at room temperature.
INGREDIENTS:
4 eggs, lightly beaten
3 T water
1/4 cup red onion, finely chopped (optional)
3 T Olive oil
1 medium tomato thinly sliced in rounds
2 T fresh parsley or basil, washed and coarsely chopped
1/4 cup freshly grated Parmesan cheese
Salt and pepper to taste
Mixing bowl, skillet, finish under broiler.
METHOD:
HEAT 2 T of olive oil in a skillet that you can eventually place under the broiler. Preheat broiler.
IF using onion add and cook till soft and light gold in color, about 4 minutes.
ADD the rest of the olive oil, and when hot.
ADD the beaten eggs seasoned with salt, pepper, basil or parsley and cheese.
COOK till bottom of frittata begins to solidify.
GENTLY place the rounds of tomato on the egg mixture.
COVER and cook over low heat till top of frittata firms, 4/5 minutes.
FINISH by placing under hot broiler for a minute or two till lightly browned.
LET cool to desired temperature, cut into triangles and serve along with crusty bread and a tossed salad for a complete and satisfying meal.

Cookbook We Like:





Copyright © 2000,2012 e-rcps.com, All Rights Reserved