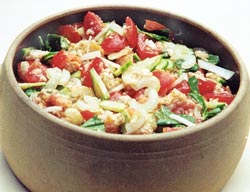 BREAD, TOMATO, AND CUCUMBER SALAD
Panzanella
Serves 6
All over Italy there are versions of this antipasto, which is also a lunchtime salad. The word panzanella comes from the Roman word panza, meaning belly. Panzanella was served in large Roman families to fill the diners' stomachs before the more expensive second courses were passed around. Make it with day-old Italian bread and firm but fully ripe tomatoes. The round, rustic loaves are best for this.
INGREDIENTS:
1/2 loaf (about 1 lb) stale and dry Italian bread, crust removed.
1 onion
1 celery heart
1 small cucumber
4 large or 6 small tomatoes, ripe but firm
20 to 30 fresh basil leaves (see note below)
coarse salt and freshly ground black pepper
3/4 cup extra virgin olive oil, or to taste
1/3 cup white wine vinegar, or to taste
METHOD:
slice the bread thickly and soak in cold water for 15 minutes.
Slice the onion very thin and soak in cold water until needed.
wash the celery heart in cold water without separating the stalks. Dry and slice thinly into a serving bowl.
Peel the cucumber, seed, and quarter lengthwise; dice and add to the bowl.
Dip the tomatoes into boiling water for 1 minute; peel, seed, dice, and add to the bowl.
Shred the basil and add to the bowl.Drain the bread, squeezing each slice to eliminate as much water as possible, then crumble and add to the bowl.
Drain the onion on paper towels and add.Season the contents of the bowl with salt and pepper to taste; mix the oil and vinegar and add.
Toss and serve at once.
Note: If fresh basil is not available, dried oregano can be substituted.
Source:
Italian Cooking in the Grand Tradition
Jo Bettoja and Anna Maria Cornetto
The Dial Press



Copyright © 2000,2012 e-rcps.com, All Rights Reserved
Recipes
Basics
Glossary
FAQ
Cookbooks
Tell a friend

Cooking Classes
Cooking classes in the U.S. and Italy.
---
Gastronomy Tours
Tour Wine & Olive oil country and other regions.
---
Links
Links to other sites of related interest.
---
Sources
Where to buy special ingredients and utensils.
---
Ask the Chef
If you don't find your recipe.
---