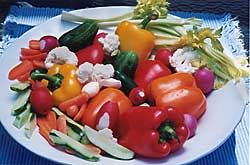 OLIVE OIL DIP WITH RAW VEGETABLES
Pinzimonio
Rome - Lazio
Preparation - Easy
Serves - as many as you like.
A dip for raw vegetables originating in Rome. The very best olive oil must be used for this dip. A large platter with an assortment of the freshest vegetables to be had, otherwise don't bother.

Very popular at parties especially in summer. Easy to prepare and refreshingly cool.

Pinzimonio comes from pinzare, to pinch, and monio from matrimonio, marriage. Pinching and combining the two, the vegetable with the olive oil dip. The olive oil should be the best you can find.
olive oil, best quality of extra-virgin oil
coarse sea salt
freshly ground black pepper
celery
tomato
fennel
carrot
raw artichoke
bell peppers, red, yellow and or green
cauliflower
In a bowl, mix olive oil with salt and pepper to taste.

Serve accompanied by a platter with fresh thinly sliced vegetables, use your imagination and preferences.

Dip vegetable in the olive oil and enjoy.



Copyright © 2000,2012 e-rcps.com, All Rights Reserved
Recipes
Basics
Glossary
FAQ
Cookbooks
Tell a friend

Cooking Classes
Cooking classes in the U.S. and Italy.
---
Gastronomy Tours
Tour Wine & Olive oil country and other regions.
---
Links
Links to other sites of related interest.
---
Sources
Where to buy special ingredients and utensils.
---
Ask the Chef
If you don't find your recipe.
---