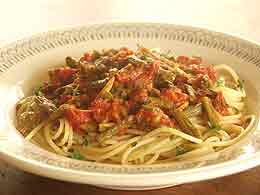 ASPARAGUS PASTA SAUCE WITH TOMATOES
Pasta con asparagi in rosso
Umbria
Preparation - Easy
Serves 4
Can be made with wild or domestic asparagus.

INGREDIENTS:
1 lb asparagus, tips and tender stalks, washed and broken into 1/2 inch pieces
2 cloves garlic, peeled and coarsely chopped
2 T olive oil or butter
1 sprig fresh oregano, leaves chopped, or 1/4 t dried oregano
1/4 red chili pepper, to taste (optional)
1 1/2 pound fresh, peeled tomatoes, or 1 1/2 14.5 oz can
Salt and freshly ground pepper
1 lb tagliatelle, spaghetti, spaghettini, fettucine
Pasta pot, large sauté pan.
BRING a large pot of salted water to boiling, add the pasta.
HEAT the oil in a frying pan and gently sauté the garlic until golden.
ADD the asparagus - continue to é until asparagus is slightly soft but not mushy.
ADD tomatoes and cook on higher heat until reduced (thickened) to preferred consistency - about 10 minutes.
WHEN the pasta is done (8-12 minutes for 'al dente'), drain and turn out into preheated serving dish.
POUR on the sauce, mix, and serve.



Copyright © 2000,2012 e-rcps.com, All Rights Reserved