Recipes
Quick & Easy
Pasta
Appetizers
Soups
Main Courses
Salads
Pasta Salads
Risottos
Recipes by Region
Mideast Recipes

Basics
Ingredients
Utensils
Cheeses
Wine

Glossary

FAQ

Cookbooks

Tell a friend




Cooking Classes
Cooking classes in the U.S. and Italy.

---

Gastronomy Tours
Tour Wine & Olive oil country and other regions.
---

Links
Links to other sites of related interest.
---

Sources
Where to buy special ingredients and utensils.
---

Ask the Chef
If you don't find your recipe.
---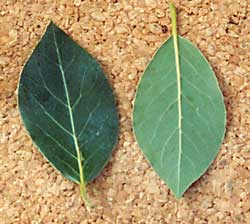 TAGLIATELLE WITH BAY LEAVES
Tagliatelle all'alloro
Preparation - Medium
Serves 6
This dish can be made with dried bay leaves as well, but it won't be quite as good. The recipe was given to us by the Paverani family.

INGREDIENTS:

1/2 cup plus 3 TBS unsalted butter
1 slice onion, 1/4 inch (3/4 cm) thick (about the thickness of a pencil).
3/4 lb (340 g) small shelled peas or 1 (10 ounces; 285 g) package frozen peas, defrosted and well drained
1/2 tsp coarse salt
1/4 tsp freshly ground black pepper
3 cloves garlic, crushed
1/2 t hot red pepper flakes, or more to taste
5 bay leaves, fresh if possible
1 T dried oregano
1 1/2 lbs (675 g) fresh tagliatelle
Freshly grated Parmesan cheese
Pasta pot,
COOK the pasta.
MELT 1 tablespoon of the butter in a saucepan.

ADD the onion slice, peas, 1/2 teaspoon salt, 1/4 pepper and cook over low heat, stirring occasionally, for about 15 minutes, or until onion is quite transparent with light touches of golden brown.

IN another pan, melt the rest of the butter and add the garlic, pepper flakes, and bay leaves. Set aside, off the heat.Cook the pasta in the boiling water until very al dente; start testing early. Remove the onion from the first saucepan and discard; add the peas to the pasta. Reheat the butter mixture until warm and discard the garlic. Pour the butter mixture over the pasta, mix well, and sprinkle with the oregano.Serve with freshly grated Parmesan.
Source:
Italian Cooking in the Grand Tradition
Jo Bettoja and Anna Maria Cornetto
The Dial Press

Copyright � 2000,2012 e-rcps.com, All Rights Reserved
�