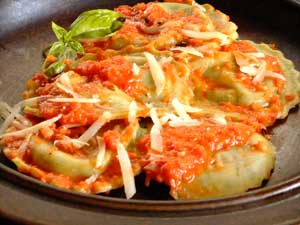 BLUSH OR LIGHT CREAM SAUCE

WITH TOMATO RECIPE
Preparation: Easy
Prep:

10 min

- Cook:

15 min

- Total:

20 min


Yield:

Serves 4




Vegetarian, Q&E
This is an evolved 'penne alla vodka' sauce and can be used in several different ways. We have found that half and half works well as the heavy cream element.
INGREDIENTS:
1/2 large onion finely chopped
3 TBS butter
2 TBS Italian tomato paste
1/2 to 3/4 cup Half and Half
1/2 tsp hot pepper flakes (optional)
1/3 cup grated Parmesan or pecorino (extra for table)
salt
OPTIONAL: artichoke hearts, mushrooms etc.
OPTIONAL; 1/4 cup vodka
Pan or skillet large enough to hold all ingredients including pasta; pasta pot.


METHOD:
SET the pasta water to boil.
HEAT half of butter. Sauté onions over medium/low heat, stirring frequently, until transparent. Do NOT brown.
ADD rest of butter and tomato paste and vodka if using. Stir. Simmer gently for five minutes.
ADD 1/2 tsp salt and (optional) hot pepper flakes.
ADD half and half, stir.
DRAIN cooked pasta, reserving 1/2 cup cooking water to add to finished dish for more moisture (usually a few TBSP are enough).
ADD pasta to sauce in cooking pan - add reserved pasta water as desired. Mix well.
Sprinkle with cheese and serve. Pass cheese at table.
     OPTIONAL - (artichokes/mushrooms) - If using mushrooms and/or artichokes (artichoke hearts best frozen, defrosted and dried off on paper towel): Add remainder of butter and if mushrooms add mushrooms, sautee, stirring frequently for about five minutes. ADD artichokes if using, sauté for a few minutes more.



Copyright © 2000,2012 e-rcps.com, All Rights Reserved